Zucchini Boats filled with Quinoa Medley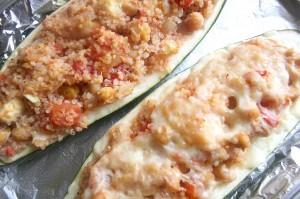 These boats are filled with a mixture of quinoa, onion, garlic, zucchini, chic peas and tomatoes. It's an easy dish that is both flavorful and filling. If you want to keep it dairy free, just skip the shredded cheese as a topping. If you like things cheesy like I do, then you can even add some crumbled feta to the mixture before placing it in the boats!
Ingredients:
1 cup of uncooked quinoa
2 cups of water
2 large zucchinis
1/2 onion, diced
2 cloves of garlic, diced
1 14 oz. can of diced tomatoes
1 cup of chic peas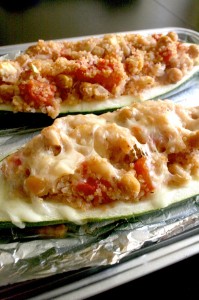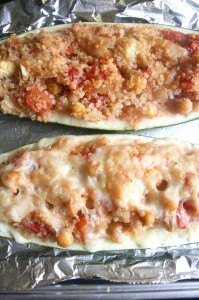 Directions:
Place water and quinoa in pot, heat to a boil then cover and simmer until water is absorbed. Meanwhile, cut the zucchini in half lengthwise and scoop out the inside flesh. Saute onion for several minutes. Once golden add the garlic and cook for an additional 2 minutes. Then add the zucchini flesh that was scooped out earlier. Allow to cook for 5 minutes or until softened. Add the can of tomatoes and saute for several more minutes. Season with salt and pepper. Combine the cooked quinoa, the tomato mixture and the chic peas in a large bowl. Fill the zucchini boats with the mixture, top with shredded cheese and bake on 400′ for 20-25 minutes.
* If you have any of the tomato mixture leftover, it tastes great served as a warm salad!
~ Recipe submitted by Nina Safar