Mini Strawberry Shortcakes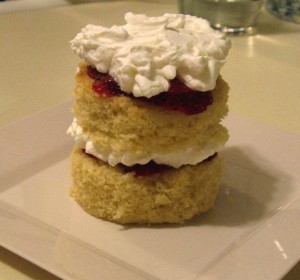 So easy and so pretty! 
Take a basic white cake, super-fresh slices strawberries, and parve whipped cream. 
Select a medium sized can (smaller than a regular tomato sauce can, but bigger than a tomato paste can) and remove the top and bottom of can. This is what I used for the cake rounds. 
Unmold the (cooled) cake from its pan onto a cutting board and, using the can, cut out rounds of white cake. Push the cake from the bottom of the can from the top (cake will get slightly stuck, be careful). Then, slice the cake rounds in half widthwise (to make 2 thinnner rounds). 
Layer cake, strawberries, and cream. Use a fork to gently spread the cream evenly. Repeat.
~ Recipe submitted by Ariella Greenberg