Cauliflower Crust Pizza with Tomatoes, Pesto & Eggs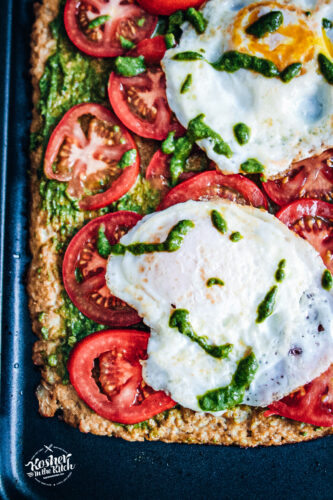 Crispy cauliflower crust topped with sliced tomatoes, herby pesto and poached eggs. You can swap poached eggs for fried eggs or sunny side up eggs. The runny yolk tastes delicious over the crispy crust!
Ingredients for Crust:
1 head of cauliflower
1 egg
Pesto (recipe below)
2 tomatoes
2 eggs, poached or sunny side up.
Directions for Crust:
"Rice" the cauliflower by chopping it into pieces and placing it in a food processor or blender. Pulse it until the cauliflower looks grain like. Place in microwave for about 4 to 6 minutes until soft. (optional, you can wring out any liquid from the cauliflower by placing it in a dish towel twisting it out. Many people have commented this helps keep it from sticking to the pan when cooking it) Mash the cauliflower with a fork. Combine with egg. Place on lightly greased baking sheet and shape into large rectangle. Bake in oven on 450 for 12 to 15 minutes. Add pesto and top with slices of tomato and fried or poached eggs.
Ingredients for Pesto:
1/2 cup walnuts
2 cups basil leaves
1/2 cup olive oil
3 cloves garlic
1/4 tsp. salt
1/8 tsp. black pepper
1/2 Cup grated parmesan cheese (optional if you want it dairy)
Directions for Pesto:
Combine ingredients in a blender, pulse until smooth. Makes about 1/2 cup of pesto.