Moroccan Spiced Fish Tacos
I love tacos and these Moroccan spiced tilapia flaked tacos are absolutely delicious. They also happen to be super easy to prepare thanks to Jack's Gourmet Moroccan seasoning, making it a menu must for quick and tasty dinners.
Ingredients:
1 lb tilapia fillets
¼ cup olive oil
Juice of 1 lime
1 teaspoon Jack's Gourmet Moroccan seasoning
Street tacos flour tortillas 
Purple Slaw
2 cups shredded purple cabbage
Juice of 1 lemon
2 tablespoons olive oil
Salt and pepper to taste
Harissa Mayo
1/4 cup mayonnaise
1 teaspoon Harissa (spicy red chili paste)
Directions:
1. Combine olive oil, lime juice, and moroccan seasoning in a large zip lock bag.
2. Add tilapia fillets to the bag then seal and let it marinate in the fridge for about 20 minutes.
3. Place fish in a baking pan and place in oven on 400′ for 20 minutes.
4. Once cooked, use a fork or tongs to flake fish into pieces.
5. Serve over tortillas with purple slaw and top with Hariisa mayo. Optional, garnish with finely diced cilantro or parsley.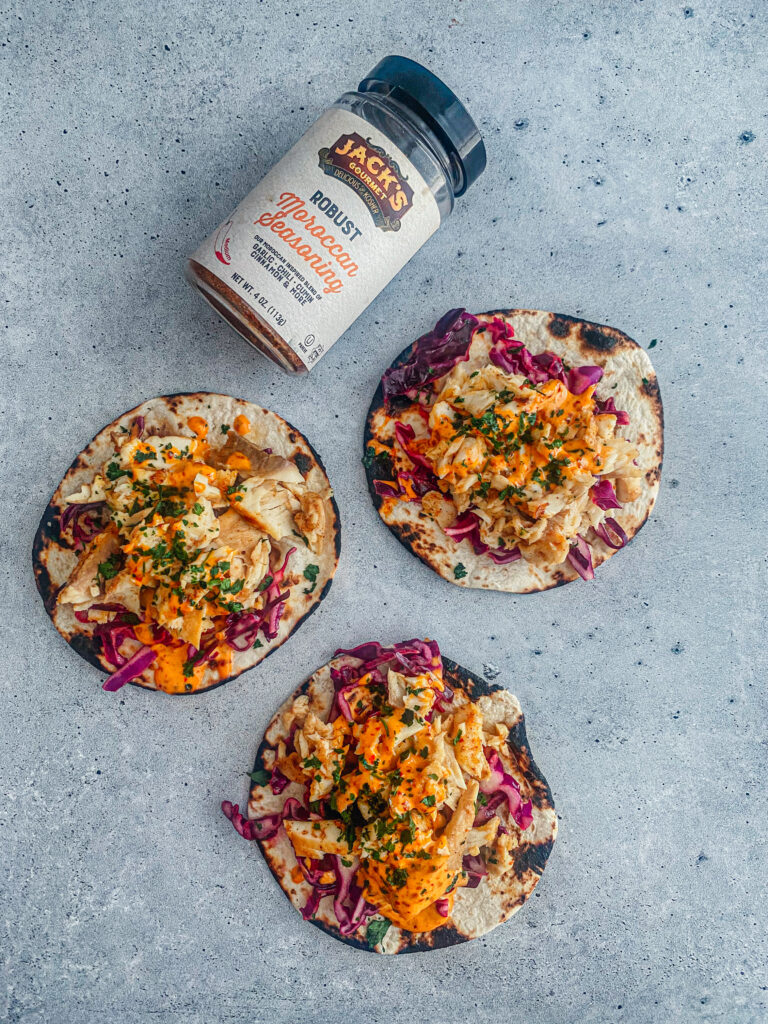 ** This post is sponsored by Jack's Gourmet