Macaroon Chocolate Bark for Passover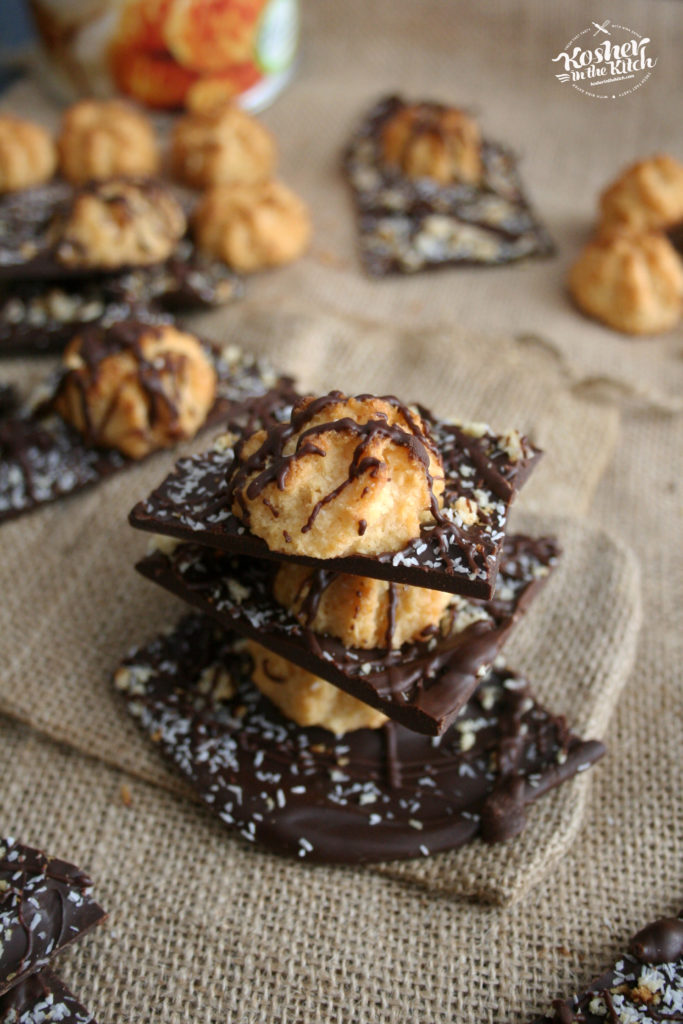 If we can't eat bread on Passover we might as well stuff our faces with chocolate. Chocolate bark is my favorite dessert since it's always Pinterest pretty with ZERO effort. Melt chocolate, spread on a parchment lined baking sheet and top with WHATEVER you want. This being Passover themed I opted for classic Manischewitz coconut macaroons, coconut powder and slivered almonds.
Ingredients:
2 9oz. bags of dark chocolate chips
1 box of Manischewitz coconut macaroons
Coconut powder
Toasted Almonds
Directions:
Melt chocolate chips in a microwave on 30 second intervals, stirring throughout. Once chocolate is melted, reserve 1/2 cup for later use then spread remaining chocolate on parchment lined baking sheet. Press macaroons into chocolate then top with coconut powder and almonds. Using the reserved chocolate, splatter over chocolate bark. Optional: add crumbled macaroons on top of bark. Allow to harden in fridge then break into pieces before serving. Store in fridge in airtight container or ziplock bag.
Tips & Tricks:
Use your favorite flavored macaroons such as red velvet or carrot cake. Swap coconut powder and almonds for ground walnuts, sprinkles, chocolate chips, chocolate lentils or mini marshmallows.