Latke Charcuterie Board for Chanukah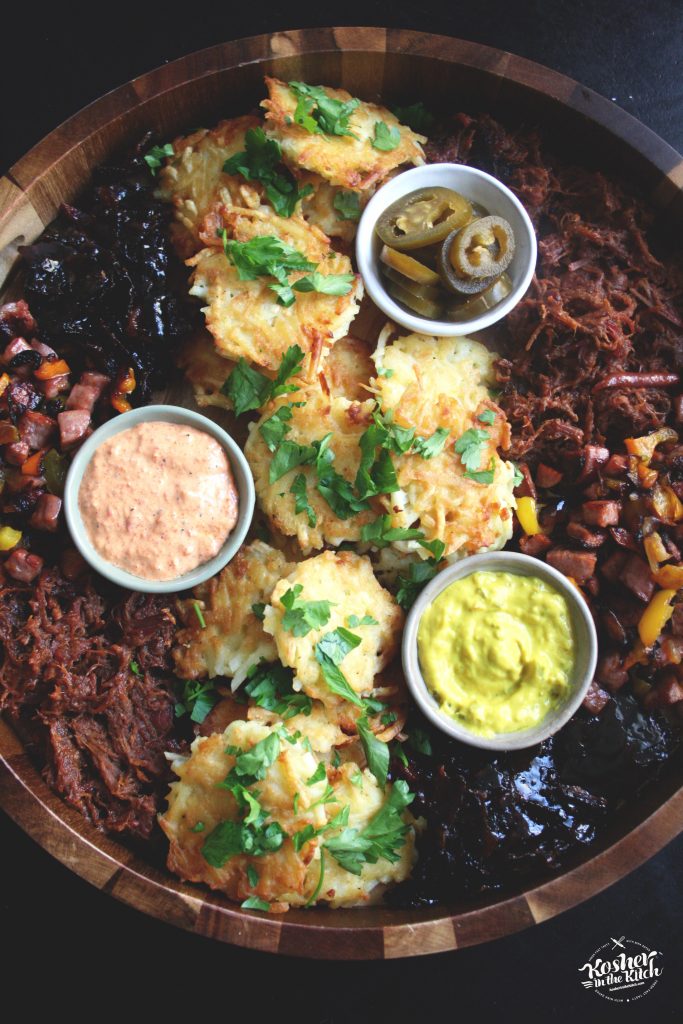 This Chanukah, spice up your latkes with a Latke Charcuterie Board! This holiday themed charcuterie board is filled with delicious Crispy Potato Latkes, Jack's Gourmet Sausage with Peppers, Jack's Gourmet Facon turned into Bite Sized Candied Beef Bacon, Jack's Gourmet Pulled Brisket and an assortment of Savory Toppings and Sauces to create a number of delicious ways to eat your latkes. Your guests will devour it one big bite at a time.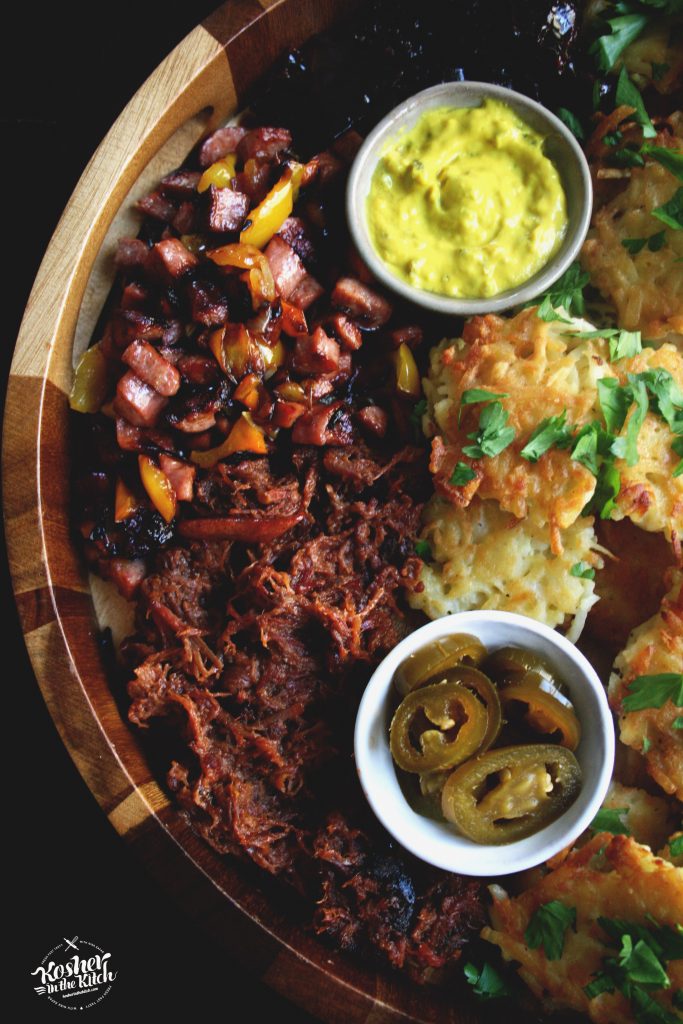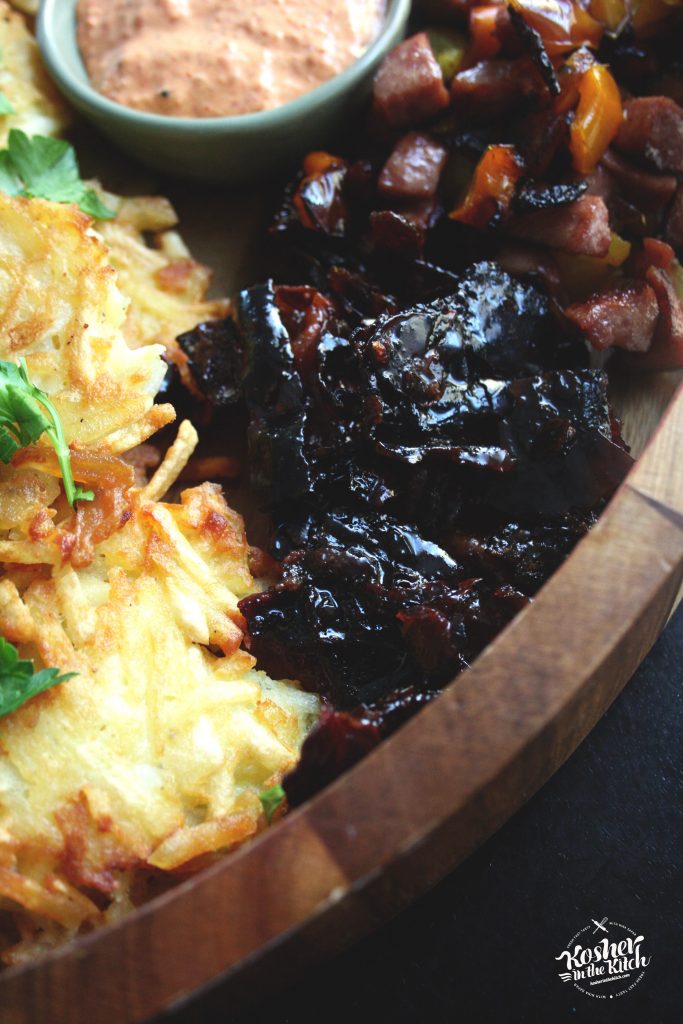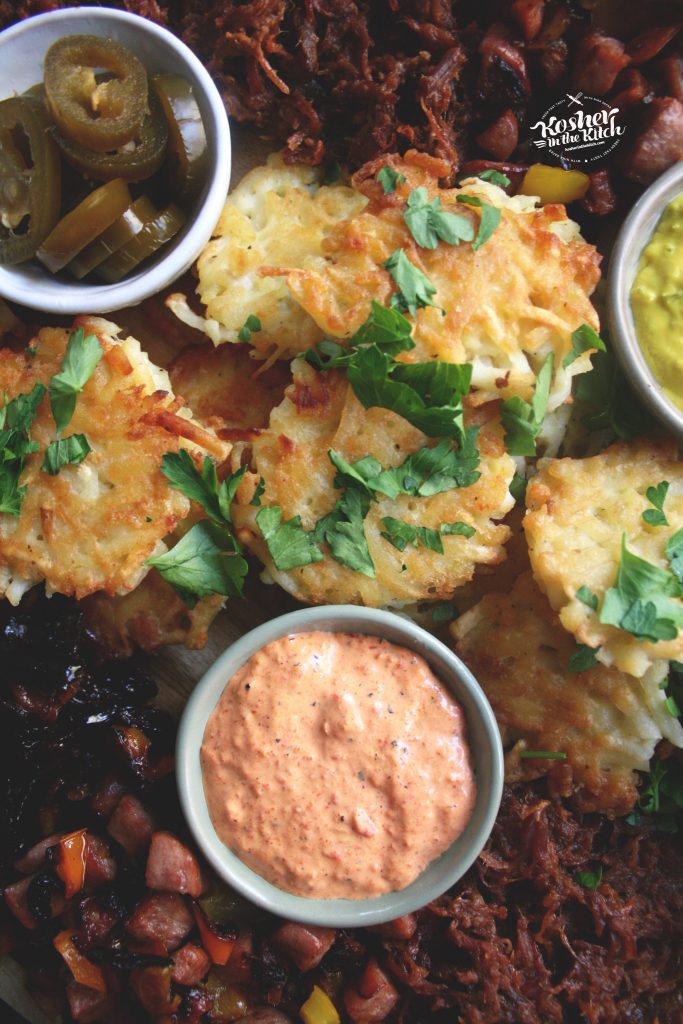 Ingredients:
Candied Beef Bacon (from The Simply Kosher Cookbook, recipe below)
Sausage with Peppers (from The Simply Kosher Cookbook, recipe below)
Jack's Gourmet pulled brisket
Choice of sauces and dips such as, spicy mustard, thousand island dressing, hummus, guacamole, salsa etc
Choice of toppings such as jalapeños, relish, pickles, radishes, tomatoes, avocado,  pickled vegetables etc
Directions:
Assemble potato latkes on a large serving board. Lay out various sized glasses and jars and fill up with sauces and toppings. Place sausage and pepper mixture, candied beef bacon and the pulled brisket around the board. Optional, top with chopped parsley, cilantro or dill.
Candied Beef "Bacon" Bits
Candied Beef "Bacon" Bits Ingredients:
4 oz. Kosher beef "bacon"
1/4 cup brown sugar
Candied Beef "Bacon" Bits Directions:
Directions: Allow beef bacon to come to room temperature then place on baking sheet lined with parchment paper. Cook on 350′ for about 15 to 20 minutes. Once cooked cool off then cut into strips or little pieces using kitchen scissors.