Mediterranean Couscous Salad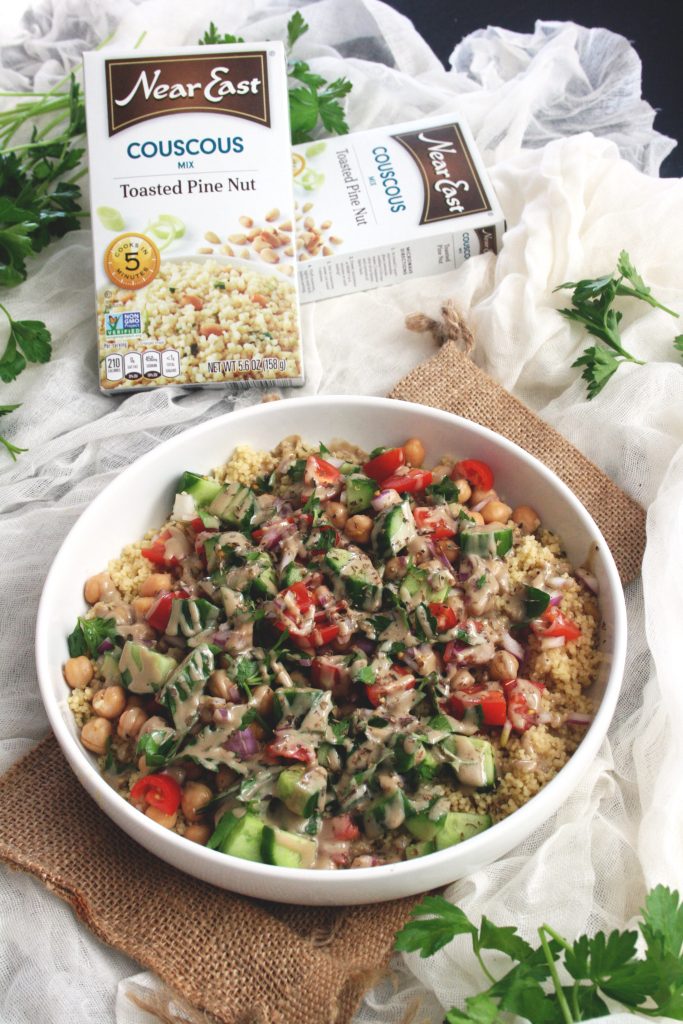 Mediterranean Couscous Salad. Near East is a lazy cook's dream! In under five minutes you get a great base for this Mediterranean Couscous Salad. Couscous with toasted pine nuts topped with Chickpeas, Israeli Salad and Creamy Tahini and Savory Zaatar! Dinner in five has never tasted better. FYI this also makes a great dish for Shabbat dinner or lunch, simply add some sliced chicken or leftover schnitzel pieces and you have got yourself a fab chicken salad. Optional, add crumbled feta or sliced goat cheese if you want a dairy option.
Ingredients:
1 box of Near East toasted pine nut couscous
1 cup of chickpeas
2 cucumbers, diced
2 tomatoes, diced
1 small red onion, diced
1 bunch of parsley, finely chopped
Juice of 1 lemon
Salt and pepper to taste
Tahini
Zaatar
Directions:
1. Prepare couscous according to instructions on the back of the box.
2. Fluff couscous once cooked then place on a large serving dish or bowl.
3. Top with chickpeas.
4. Combine cucumbers, tomatoes, onions and parsley, lemon juice salt and pepper then layer over chickpeas and couscous.
5. Drizzle tahini over salad
6. Garnish with zaatar
Optional: If desired you can add thinly sliced chicken, schnitzel, tofu cubes or crumbled feta and sliced hard boiled eggs.
* This post is sponsored by Near East Products.