Fish N' Chips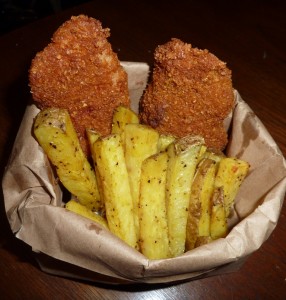 Ingredients:
Bag of tilapia fillets (or other fish fillets), cut into 1 and 1/2 inch by 3 – 4 inch strips
Flour
Sea salt
Pepper
Hawaij (Yemenite spice)
Egg substitute
Cornflake crumbs
Canola oil
Potatoes, washed and unpeeled, cut into 1/4 – 1/3 inch by 3 inch strips
Olive oil
Directions:
To make the fish:
Mix flour with sea salt, pepper, and hawaij. Dip each of the tilapia strips first into flour mixture. Then, dip each strip into egg substitute, and then into cornflake crumbs.
Meanwhile, heat up canola oil in a frying pan over high heat. When oil is hot, place the coated tilapia strips into the pan. Fry on high heat for 3 minutes. Then flip each strip and fry for 3 more minutes on high heat. When the strips are ready, place them on a plate covered with paper towels.
To make the chips:
Preheat oven to 400. Place potato strips in a bowl of cold water and change the water a few times. Thoroughly dry the potato strips. Place the strips into a ziplock bag and put a little bit of olive oil in the bag. Close the bag and shake the potatoes to cover with the olive oil. Sprinkle sea salt, pepper, and hawaij into the ziplock bag. Shake the bag to coat the potato strips with the spices. Place the coated potato strips on a greased cookie sheet and bake uncovered for about 30 minutes or until potato strips feel soft when pricked with a fork.
~ Recipe submitted by S.K.