Tilapia Tacos (Ensenada Style)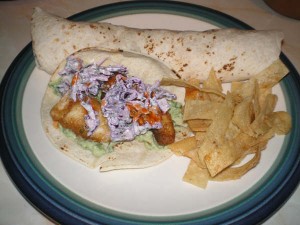 Ingredients:
2 fillets of Tilapia
3 Tablespoons plain flour
3 Tbl. cornstarch/cornflour
2 teaspoons Fajita or Cajun style seasoning mix
1 tsp. Paprika (Spanish smoked paprika if available)
Salt & Pepper
1 small bottle of a light Mexican beer (I love Bohemia!)
Squeeze of fresh lime
Oil for frying
6 small corn tortillas (or even taco shells,tostadas or flour tortillas if you like)
Guacamole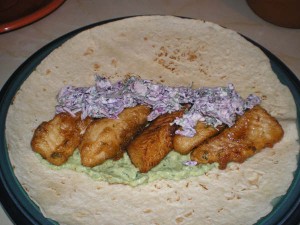 Red Mexi-Slaw:Shredded Red Cabbage,sliced red onion,chopped cilantro/coriander,finely chopped red chili,sour cream,pinch of paprika and ground cumin+S&P,squeeze of lime,mix well !
Hot Sauce if desired (I love a drizzle of Cholula for that authentic Mexican flavor!)
Directions:
It's best to get your accompaniaments ready first as the fish cooks pretty quickly.ie.guac,slaw,etc. If deep frying start to heat oil. (Alternatively,you can shallow fry in a good deep frying pan as for Latkes.)
Cut the Tilapia into 'short fingers' (approx.4-6 per fillet)Place in a colander over a bowl and lightly salt.This takes out excess moisture for frying. In a mixing bowl combine the flours,fajita seasoning,paprika and S&P and mix together well.
Now gradually and evenly whisk in the beer to a desired consistancy (about that of double cream)Squeeze in some lime. Rinse the Tilapia and dry on paper towel.Then place it in the batter and coat thoroughly.
Starting with the larger pieces of fish,remove and shake off excess batter,then carefully lower into the oil (unless you're used to battering your fingers like me,use tongs!) They should float to the top after 3-5 mins.
You'll probably have to do this in two batches-keeping the cooked pieces warm in a low oven.(btw:your tortillas should be in there now anyway, unless you're grilling them or otherwise) Place the cooked fish on papertowel to remove excess oil.
Once the fish is ready,lay out your tortilla,spread generously with Guacamole,lay fish on top then top with the 'Slaw and Hot Sauce to your liking…fold,roll or wrap and serve!
Note:for a healthier version,marinate the fish for 20-30 mins. in olive oil and lime juice,mixed with the Paprika,Fajita seasoning,S&P,and some chopped cilantro/coriander,then cook in a very hot dry cast iron frying pan,griddle or even tastier,cook on the BBQ!
Que Aproveche!
~ Recipe submitted by Maurice Olsberg