Coconut Almond Balls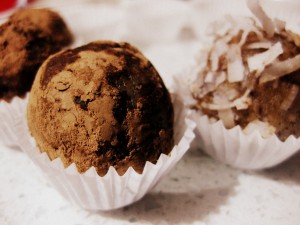 This recipe is Vegan, No Bake and Kosher for Passover!
Ingredients:
1 cup almond meal
1 cup unsweetened coconut flakes
2 tablespoons agave syrup or honey
Optional flavoring:
Add 1 teaspoon almond extract, or rum/brandy, or orange peel.
Coating:
unsweetened cocoa powder (I used raw cacao)
coconut flakes
Directions:
Combine ingredients in mixer until it forms a thick paste. Roll into small balls, cover in desired coating, and place in mini cupcake liners.
Makes about 15 walnut sized balls.
Tips: If using sweetened coconut flakes, use a little bit less honey; unless you like your macaroons sweet.
~ Recipe submitted by Kseniya of "The Midnight Baker"