Tomato Soup "Mystery" Cake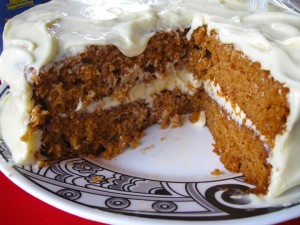 If you've lived in the United States for any length of time, chances are, you've probably heard or even indulged in some carrot cake or zucchini bread. These quick breads (not truly 'cakes,' in the culinary sense, per se) gained wide popularity, particularly in the 1970's, when the burgeoning health craze began guilting the public into adding extra fruits and vegetables to their standard household treats.
But, for most of these quirky fruit and vegetable cakes, the '70's were more of a comeback tour than a debut. The fact is, many of these sorts of desserts were created out of necessity. The earliest carrot cake, for instance, emerged probably in Sweden during medieval times. This was partially due to the lack of refined sugars available, and people just wanted something sweet. Carrots contained the highest natural sugar content of all the crops, aside from the sugar beet, and were used to sweeten the cake. Most likely, a medieval Swedish carrot cake would probably not suit the tastes of the average American today, but the quirky cakes' next incarnation would.
For many people, the Great Depression and war time (World War II, to be specific) presented many challenges due to national rationing and availability/cost of ingredients. Those who remember my Not So Depressing Cake post will recall cakes and desserts made with the most bizarre substitutions, to include pies made with crackers for filling, and cakes made without eggs or dairy of any sort. As butter, up until that time, was the traditional key fat ingredient in cake, the rationing of such things during the war left home cooks in want of a good substitution. The solution? Fruits and vegetables.
So, it was common around this time to see cakes made with applesauce, carrots, and zucchini. Shreds and purees of these fruits and vegetables provided cakes with much needed moisture, and allowed the home cook in most cases to reduce the fat content of their desserts (In fact, a common fat reduction technique still used today is to substitute up to 2/3 of a cup of the oil used in a cake recipe for applesauce). A cake that perhaps didn't stay in the public memory so well was the Tomato Soup Cake.
Although the earliest reference to this cake in print can be found early as 1928, it was the Campbell's Soup Company (big surprise) who popularized it around 1941, again, a likely product of war time rationing. Also called "Mystery Cake," the cake's secret ingredient surprises most who try it; there's simply nothing tomatoey about it. The recipe calls for a full can of condensed tomato soup (emphasis on the CONDENSED…chunky tomato basil's not going to cut it here), which acts as both an oil substitute and a buttermilk substitute. The moisture content in the soup is sufficient to replace some of the oil required for a proper cake, and the acidity in the tomatoes acts as a tenderizing agent to produce an extremely moist cake with an ethereally tender crumb.
What I have here is a variation (there are many) of the most current Campbell's Tomato Soup Cake recipe, which you can find on their website. The "original" version of the cake, printed in 1941 can be found here. It's interesting to note the differences between the two. Personally, I used the recipe printed below. Please note that Campbell's Tomato Soup is not listed as kosher with a hechscher, but there are store brand equivalents that are (and are much less expensive too!).
Ingredients:
2 cups all-purpose flour
1 1/3 cups sugar
4 teaspoons baking powder
1 1/2 teaspoons ground allspice
1 teaspoon baking soda
1 teaspoon ground cinnamon
1 teaspoon ground cloves
1 teaspoon freshly grated nutmeg (1/2 teaspoon, if using dried)
1 can (10 3/4 ounces) CONDENSED tomato soup
1/2 cup less 2 teaspoons vegetable oil
2 eggs
1/4 cup water
Directions:
Heat the oven to 350°F. Grease a 13×9-inch baking pan. Alternatively, use two 9″ round pans or one bundt pan. Stir the flour, sugar, baking powder, allspice, baking soda, cinnamon and cloves in a large bowl. Add the soup, oil, eggs and water. Beat with a hand mixer on low speed just until blended. Increase the speed to high and beat for 4 minutes. Pour the batter into the pan. Bake for 40 minutes or until a toothpick inserted in the center comes out clean (it will take about 25 – 30 minutes if using two round pans, about 1 hour for a bundt pan). Remove cake from pan(s) and cool on a wire rack. Frost, if desired (cream cheese frosting works great!)
A good pareve cream cheese frosting can be made easily using:
8 ounces Tofutti Better Than Cream Cheese
1 stick margarine
2 cups (approximately) confectioner's sugar (adjust amount according to how sweet you want it)
* Beat together ingredients with a hand mixer until smooth. Note: This is not a thick frosting like dairy cream cheese frosting, so make sure the cake you're frosting is completely cool. It's also not a bad idea to keep the cake and frosting in the fridge, especially on hot days.
~ Recipe submitted by Allaya Fliescher