Deli Roll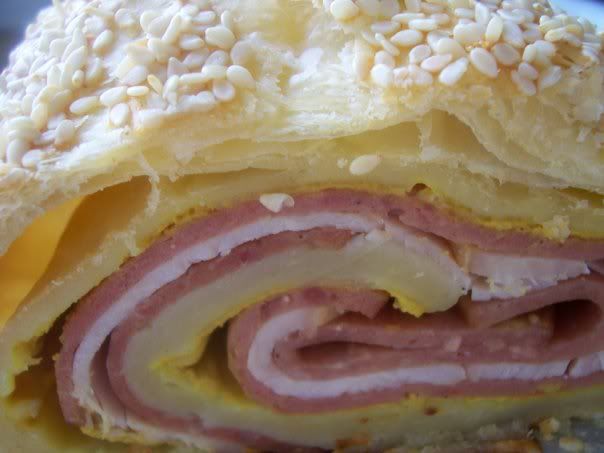 Ingredients:
Frozen Pastry Dough
Cold cuts of your choice (turkey and salami work well!)
Mustard or your choice of toppings
Directions:
Lay out sheet of frozen puff pastry dough on a greased cookie sheet.
Wait for it to be defrosted enough to roll but not too mushy.
Spread mustard over entire sheet of dough.
Layer deli slices.
You'll need a total of 12 slices- start wtih 4 red then 4 white on top and 4 red again. (Any type works but of course the more expensive meats are much tastier :-)
Roll it up!
Brush with egg and sprinkle sesame seeds on top.
Bake on 350 for 55 minutes. Allow to cool before slicing.
Goes great with a hot cholent on shabbos day!
~ Recipe submitted by Chanel Lipskier