Cheese Blintze Latkes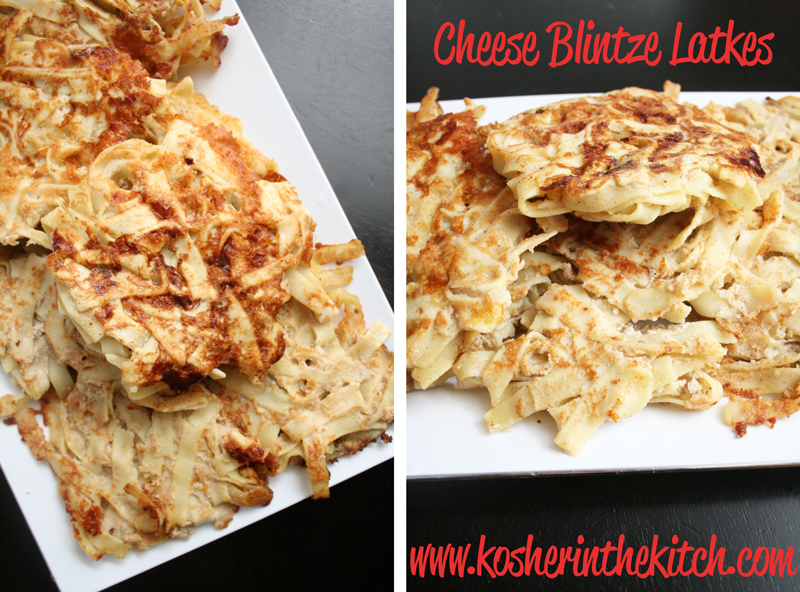 This recipe was inspired by my moms famous cheese blintzes and her delicious noodle kugel. I took the cheese mixture she uses for the blintzes, and combined it with the noodles and apple sauce that she puts in her kugel and bam, I got cheese blintze noodle kugel latkes! That of course, is way too long of a name for a recipe, so I shortened it to cheese blintze latkes.
Ingredients:
2 eggs
1 cup of cottage cheese
1/2 cup of ricotta cheese
1/2 cup of apple sauce
1/2 tsp. cinnamon
1 tsp. brown sugar
1/2 bag of medium egg noodles, cooked
Directions
Mix the eggs in a large mixing bowl. Add the cottage cheese, ricotta cheese, and apple sauce and mix well. Add the cinnamon and sugar and mix well. Then add the cooked noodles and combine. Heat up a large skillet with some oil and shape the noodle and cheese mixture into patties and cook until golden brown on each side.
~ Recipe submitted by Nina Safar