BEST Fluffy Pancakes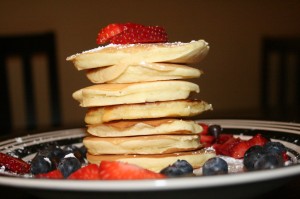 I'm married with a kid yet most Sunday mornings you will still find me at my moms eating breakfast.I'll drop everything to run over and have a bite of her light and fluffy pancakes dripping with sweet syrup. Last winter my brother called me to let me know my mom was making her famous pancakes and I ran over. It was during a huge blizzard! I was still in my pjs when I got the call, thinking with the crazy weather I would be home all day. I threw on clothes, slipped into my rain boots and got there 10 minutes after he had called. One bite of those light and fluffy pancakes was worth every minute of walking in the freezing snow! These are so good, I don't just have them in the A.M., last night I served them for dinner with fruit, chocolate chips and syrup. Breakfast for dinner doesn't get any better than that!
Ingredients:
2 cups flour
4 tbsp sugar
1 teaspoon salt
1/4 cup oil
3 teaspoon baking powder
1 3/4 cups milk
2 eggs
Directions:
In a large mixing bowl, combine the flour, sugar, baking powder and salt. Mix in the milk, eggs & oil until well combined and smooth. Heat a lightly oiled skillet or frying pan over medium heat. Using a 1/4 cup measuring cup, scoop the pancake batter onto the griddle. When pancake is golden brown, flip to cook other side. Brown both sides and serve hot with syrup, fruit, whipped cream or a light dusting of confectionery sugar.
~ Recipe submitted by Nina Safar