Beef Bourguignon with Kosher Beef Bacon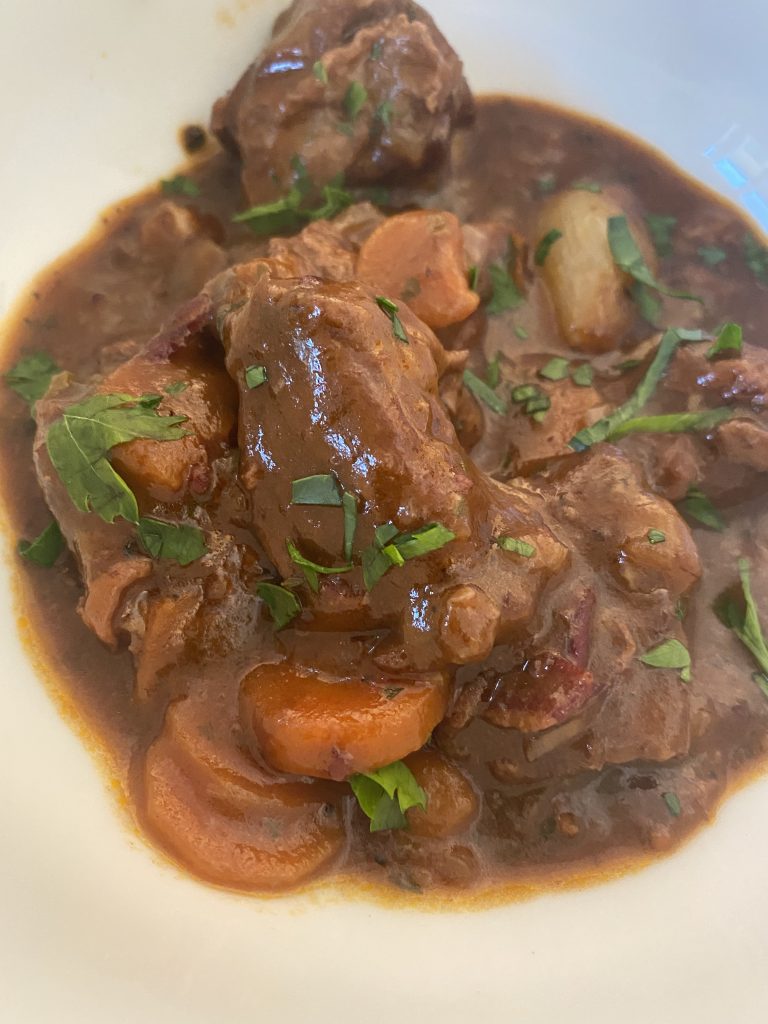 Beef Bourguignon with KOSHER Beef Bacon is the perfect cozy weekend dish. I got this recipe from my friend James and I must say, one of the perks of having him as a neighbor is being able to taste incredibly flavorful dishes like this one right here.
View this post on Instagram
Ingredients:
3 pounds chuck or brisket beef chunks
1 large white onion, chopped
1 tablespoon diced parsley.
1 teaspoon diced thyme
3-4 large carrots carrots, cut into chunks
Bottle of red wine (a full bodied red wine)
Jacks Gourmet Facon cut into matchsticks.
4 cloves of garlic
1 cup of white button mushrooms, sliced
3 cups beef stock
Directions:
1. In a large stew pot, brown facon bits until crispy. Remove facon from pot and drain. (leaving facon fat in pot)
2. Add onions and carrots to the fat in pot. Saute until soft.
3. add garlic until aromatic, then remove all vegetables from pan and drain vegetables.
4. Coat beef in flour and season with salt and pepper.
4. Allow pot to heat up, then sear beef in batches. Remove beef from pot and drain pot.
5. Place all vegetable and beef back in the pot, and add 2 cups wine and 3 cups of beef stock. (everything should be covered.)
6. Add chopped thyme and parsley. Stew together until beef is soft.
7. Add mushrooms and to pot and cook until sauce is nice and thick and rich with flavor.