Baked & Fried Flounder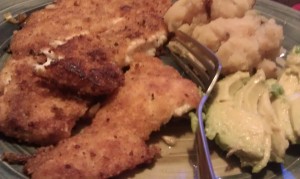 The man likes very simple food, so this is what I whip up for him when it's time for dinner!
Ingredients:
1 cup corn flakes crumbs
½ cup of matzah meal
2 table spoons of salt
3 egg whites
3 potatoes
3 garlic cloves
1 lemon
Directions:
Mix 1 cup corn flakes crumbs with ½ cup of matzah meal and a table spoon of salt in a bag, shake to combine ingredients and pour into plate or dish for easy coating. Dip the fish into the egg whites then coated with crumbs mixture. Fry in a pan with oil, flipping when it gets dark on the edges. You can also bake the fish. I like things a little spicy and hate excessive oil, so I add a pinch of hot paprika to the crumb mixture, and another pinch of a spicy "meat rub" -basically whatever adds the "oomph" for you. Slicing a lemon diagonally across I squeeze lemon juice over the breaded fish and bake at about 350 for 15 minutes, flip and add more lemon to the other side and cook for about 5 more minutes or until done.
I like my potatoes old school.
Boil 3 potatoes in salt and a dash of evoo, while in a separate pan sauteing onions in evoo, a table spoon salt, and a few garlic cloves (I leave them whole) When potatoes are done (I do the fork test), rub the peels off under cold water placing potatoes back in the same pot. Drain most of the water (leaving some for consistency), add your onions, a pinch of salt mix and serve. I like to mix in some avocado to get it thick and creamy.
~ Recipe submitted by Dee