Onion Pie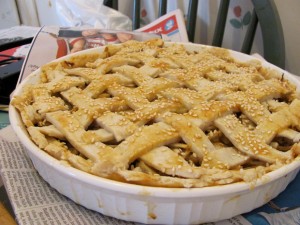 This recipe is adapted from Dining In Again page 86. I added my pie crust recipe, and sauteed the onions before adding the soup. You don't have to lattice, but it is breath taking to see!
Crust Ingredients:
2 cups of flour
1 tsp of salt
3/4 cup crisco
4-8 Tbsps ice water (have a glass filled with ice and add some water before you start)
Filling Ingredients:
4 large vidalia onions, chopped
2-3 Tbsps of oil for sauteing
1/2 tsp of salt
1/4 tsp black pepper
1 can french onion soup (Rokeach brand)
1 egg beaten for the wash on top of lattice.
sesame seeds for on top.
Crust Directions:
Combine dry ingredients with a whisk, using a fork or a pastry cutter add the crisco until it resembles course oatmeal. Slowly add water start with less and if it is dry add tiny bit more. Dough should only stick in two. Divide in half, wrap in saran and refrigerate.

Filling Directions:
Preheat oven to 350. Saute onions in a large fry pan until tender(this is the step the cook book left out)add salt and pepper, and the can of onion soup. remove from heat and set aside. Take out one ball of dough, place it on a sheet of wax paper, flatten with hands, place another sheet of wax paper on top roll out to 1/8 inch thickness. Have ready a large round pyrex server similar to a flan pan, or a large flan pan….ungreased.Place in pan, add filling. Get second ball, do the same, this time cut into 1″ strip. Its easy to latice. If I can do it so can you!!! Place strips on top 1″ apart over the pie all in the same direction. starting in the middle, Fold back on itself every other strip, and place another strip in the opposite direction at the fold of the strips. Lay down the strips over the new strip. In the same direction that you just lay down the new strip, lift the opposite strips, and do the same. Continue to the end of this side of the pie. Flip pie around and do the next side. You don't have to lattice, just poke holes in the top. Brush with egg, sprinkle seeds on top, bake 350 f for 45-50 minutes.
~ Recipe submitted by Tina Kauffman