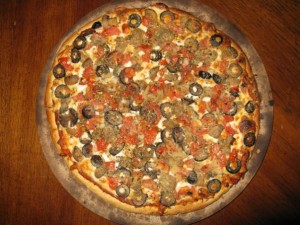 Ingredients:
Trader Joe's raw pizza dough or Tradition ready-made pizza crust
6-8 cherry tomatoes, chopped
8 black olives, sliced into rings
8 marinated mushrooms (or regular canned mushrooms), sliced
1/3 of a small onion, chopped
pizza sauce
8 oz shredded mozzarella cheese
1/6 of Trader Joe's marinated mozzarella (O-U), chopped
Directions:
Turn oven on 500 degrees and put pizza stone in. Meanwhile, chop/slice veggies and cheese and roll out dough (if needed). About 10-15 minutes later, turn oven down to 450 degrees and take pizza stone out. If using TJs pizza dough, sprinkle corn meal on pizza stone and stretch pizza dough on stone (can press down on edges with a spoon to make it stick to stone).
Spoon sauce over dough, sprinkle only the shredded cheese over sauce, sprinkle veggies over cheese (I sprinkle onion first, then olives, then mushrooms, then tomatoes). Then sprinkle TJ marinated mozzarella cheese, and then spices. I use garlic powder, onion powder, dried basil, and dried oregano.
Bake in 500 degree oven for about 15 minutes and then can broil for a few minutes to get it to be browned and crispier.
Enjoy! :)
~ Recipe submitted by S.K.