Moist Pumkpin Muffins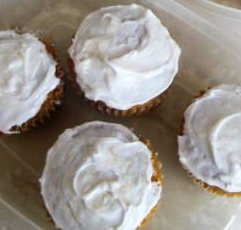 1 cup flour
1 1/2 tsp baking powder
1/4 tsp baking soda
1/4 tsp salt
1/2 tsp cinnamon
1/4 tsp nutmeg ( i never put this is)
1/4 tsp ginger
4 TBSP marg/butter
2/3 cup sugar
1 egg
1/2 cup pumkin puree (fresh mashed or canned)
1/3 cup milk
frosting
in side bowl, mix flour, baking soda, powder, salt and spices
in mixing bowl beat butter ad sugar. add egg. beat well. beat in pumpkin puree. add dry ingredients alternating with the milk until well blended.
pour in muffin plans. fill about 2/3 full otherwise they will over flow!!!
bake at 350 for 15-20 min.
cool and frost.
~ Recipe submitted by Yocheved Wylen