Pasta with Cheese & Broccoli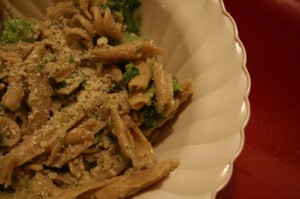 This is a recipe my friend Faigy gave to me back in high school. We would always make it on lazy sundays and when studying for finals because it was easy to prepare and tasted great. Now that I am "grown up" and more health conscious, I use whole wheat or whole grain pasta. However it can still be prepared in a hurry and has the same great flavor!
Ingredients:
Broccoli
Pasta
Mozzarella Cheese
Parmesan Cheese
Directions:
Cook the broccoli in a pot.
Prepare the Pasta.
Once the Pasta & Broccoli are ready, mix together with the Mozzarella cheese. Add the Parmesan when serving.
~ Recipe submitted by Nina Safar