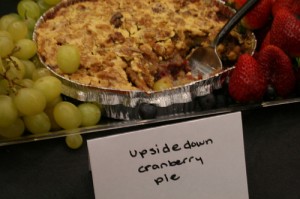 Ingredients:
2 cups fresh cranberries, or 1 can whole cranberry sauce
2 eggs
1/3 c flour
1 1/2 c sugar
3/4 c smart balance
2 c walnuts or pecans
Directions:
Grease bottom of ten inch pie plate. Cover plate with cranberries. In a bowl, beat eggs well. Mix flour, sugar, smart balance, beat well. Add nuts. Mix together. Pour combination over cranberries. Bake in preheated oven for 1 hour at 325 degrees.
~ Recipe submitted by Tanya Bernardson