BEST Yellow Cake with Frosting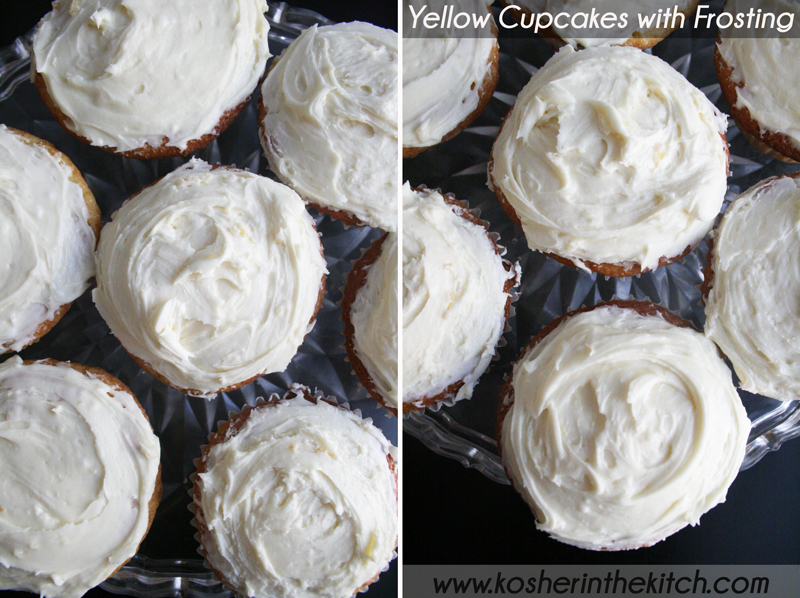 Growing up we always had baked goods waiting for us when we got home from school. To say my mom's a baker is an understatement. She is the Queen of cakes, danishes, cookies and all things sweet. This is her yellow cake recipe. It's a classic and staple for birthday parties, Shabbat dessert and those rainy afternoons you want to make cupcakes just because. You can bake it as a cake in a 9×13 pan, make a layered cake using two small round pans or serve them as cupcakes. Top them with the rich buttercream frosting for an even tastier treat!
I made 12 regular sized cupcakes and 17 mini cupcakes with this batter. I baked some with chocolate chips and baked some without and then added jam filling to them after they were baked. I topped them all with the buttercream frosting.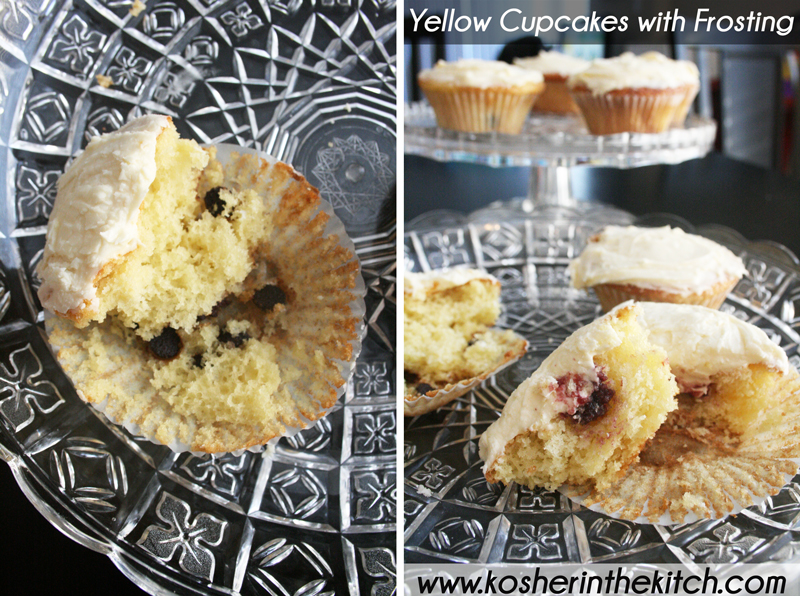 Ingredients:
2 cups of flour
1 and 1/3 cup of sugar
3 teaspoon. baking powder
1 teaspoon salt
1/2 cup of oil
1 cup of orange juice
2 eggs
1 teaspoon vanilla extract
Directions:
Combine ingredients in a large mixing bowl. Bake in oven on 350′, in 9×13 pan or two small round pans for 45 – 50 minutes until top is firm. (If baking cupcakes check after 20-25 minutes.)
Ingredients for Frosting:
1 box of confectioners powdered sugar
1/4 cup of soy milk
1 tsp. vanilla extract
1 stick of butter, softened to room temperature
Directions for Frosting:
Cream together and blend until smooth.
~ Recipe submitted by Nina Safar