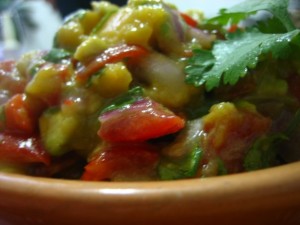 1 mango – peeled, seeded and diced
1 avocado – peeled, pitted, and diced
4 medium tomatoes, diced
1/2 cup chopped fresh cilantro
3 cloves garlic, minced
1 teaspoon salt
2 tablespoons fresh lime juice
1/4 cup chopped red onion
3 tablespoons olive oil
JUST MIX ALL THE INGREDIENTS.
I prefer mixing the mango, tomatoes and avocado first.
And feel free to experiment! You can add a small jalapeno pepper, or a can of baked black beans, or more garlic if you want to.
I used lemon juice since I didn't have a lime, about half of a large lemon, and it worked out wonderfully, since I like my salsa to be on the tangy side.
~  Recipe submitted by Kseniya