Thanksgiving Chicken Stuffed with Stuffing and Gravy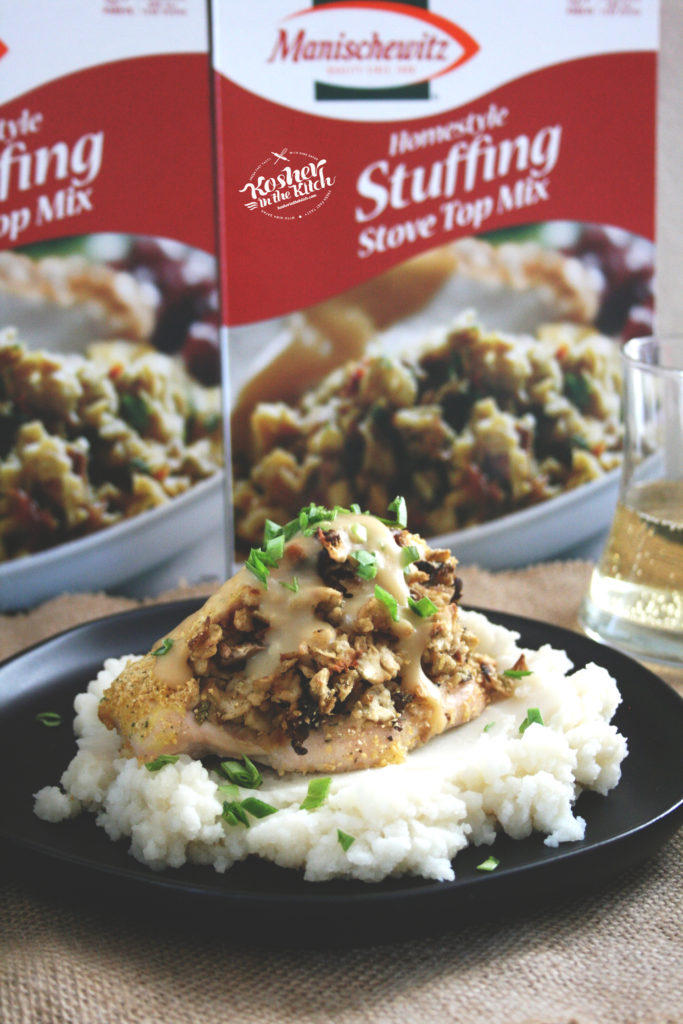 I created this dish for Manischewitz and it's a MUST for your Thanksgiving AND Shabbat menu. Savory Chicken stuffed with classic stuffing mix served with gravy on top it's simply delicious and best served over creamy mashed Potatoes for the ultimate comforting holiday dish.
Ingredients:
4 boneless skinless chicken breasts
1 container of mushrooms, chopped
1 6oz. box of Manischewitz stuffing mix
1/4 cup vegetable oil plus more for cooking
2 cups boiling water
1/4 cup mayo combined with 2 tablespoons yellow mustard
1 cup corn flake crumbs
Directions:
Saute chopped mushrooms until tender and browned. Remove from pan and set aside. Heat up 1/4 cup vegetable oil then add stuffing crumbs (large bag) from stuffing mix box. Saute until lightly browned. Remove from heat and allow to cool for several minutes. Stir in the 2 cups boiling water slowly. Add contents of seasoning packet (small packet) and bring to a boil. Reduce heat and simmer 10-15 minutes or until water is completely absorbed. Fluff with a fork and combine cooked mushrooms to stuffing mixture. Cut a slit into chicken breast and stuff with mushroom stuffing mixture. Place on parchment lined baking sheet and top each chicken cutlet with mayo mustard mixture. Top chicken with corn flake crumbs. Bake on 350′ for 35 to 40 minutes until chicken is cooked through. Serve with gravy (recipe below) and chopped chives.
Gravy
Ingredients:
2 tablespoons margarine
2 tablespoons flour
1 cup Manischewitz chicken broth
1 tablespoon soy sauce
Directions:
Melt margarine in a pot over low heat. Add flour and whisk until combined. Slowly add broth. Whisk until combined. Continue whisking over medium heat until mixture thickens. Add soy sauce and combine.