S'mores Challah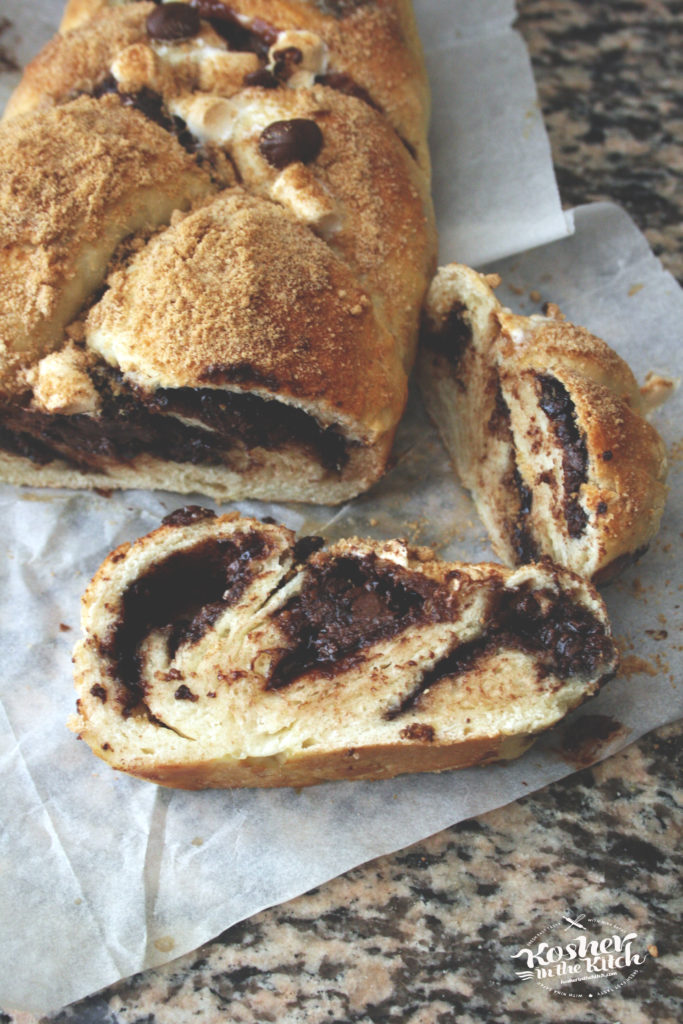 Challah on it's own is pretty awesome but when you stuff it with chocolate spread, marshmallows and chocolate chips and top it with crushed graham crackers and even MORE chocolate chips and marshmallows it turns into the greatest thing you will ever eat. If I had a last meal, it would be a slice of S'mores Challah. Ok, who am I kidding? I would want the entire challah all to myself. No sharing.
Ingredients:
Challah dough (I use this recipe HERE)
Chocolate spread (non dairy)
Mini Marshmallows
Crushed Graham crackers
Chocolate chips
2 eggs whisked together combined with a tablespoon water.
Directions:
Separate prepared dough into pieces then roll out into long strands. Flatten strands and brush with chocolate spread then top with mini marshmallows and chocolate chips and seal strand up before braiding challah. Top each challah with whisked eggs water mixture and sprinkle crushed graham crackers on top and add additional chocolate chips and mini marshmallows on top. Bake on 350′ for 20 minutes on top rack of oven then switch challah to bottom oven racks and bake an additional 20 minutes or until challah is golden browned on top. Best served warm.