Roasted Mini Peppers and Garlic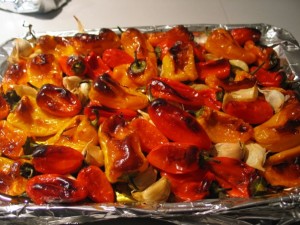 This is for Moroccan salad.
Lay the peppers and garlic (whole cloves with peel still on) on the pan. drizzle all over with olive oil and sprinkle salt all over. roast in oven on 400 degrees till they get this color. put in tightly sealed container and lasts for a few weeks. delicious.
~ Recipe submitted by Anna-Aliza Benzaquen Rosenbaum