Kosher in The Kitch Tasting Party!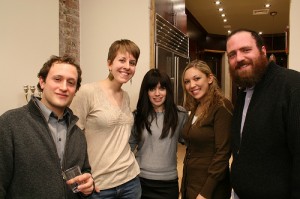 Kosher in the Kitch had its first ever tasting party this past Sunday evening in the home of Yossi and Idii Stern.  The idea was to bring the site to life where its fans could actually try the recipes that they have been following on the site.
Six contestants had the opportunity to prepare their recipes in the kitchen of The Center for Kosher Culinary Arts and then present them at the party to be sampled.  The event was open to the public and everyone was able to taste all of the delightful treats. 
The following four judges were present at the tasting event to select their favorite desserts:
~ Leah Koenig, Writer and Editor of 
"The Jew and The Carrot"
~ Sandy Stollar, personal chef and creator of
"The Kosher Tomato"
~ Yos Schwartz, Executive Chef of 
"The Fresh Diet"
~ Jesse Blonder, Director of 
"The Center for Kosher Culinary Arts"
They sampled desserts from the following contestants:
Shoshe Ben-Abou

Etti Hazan-Goldfarb

Elke Probkevitz

Miriam Rothstein

Tanya Bernardson

Chanel Lipskier
A delightful moist chocolate cake served with whipped cream and fresh fruit was an old family recipe submitted by Shoshe.  Etti whipped up individual servings of a chocolate mousse that was silky goodness.  Elke of "Take Home Chef"  prepared her famous chocolate-dipped white biscotti. Miriam also brought back an old family favorite, her mother's strawberry shortcake, while Tanya went with something new, baking an upside down cranberry pie that was simply fabulous.  The winning recipe of the evening was Chanel's peanut butter ice cream with brownie bits!  It won her two free passes to a cooking class at the culinary school as well as a $100 gift certificate to Grillz of Staten Island!
Those in attendance also had the chance to win some fabulous prizes that were raffled off.
For those that missed it, don't worry this is an event we plan on having again!
Thanks again to everyone who helped make this event a success! Looking forward to the next one =)
xoxo
Nina