Peanut Butter Bamba Cheesecake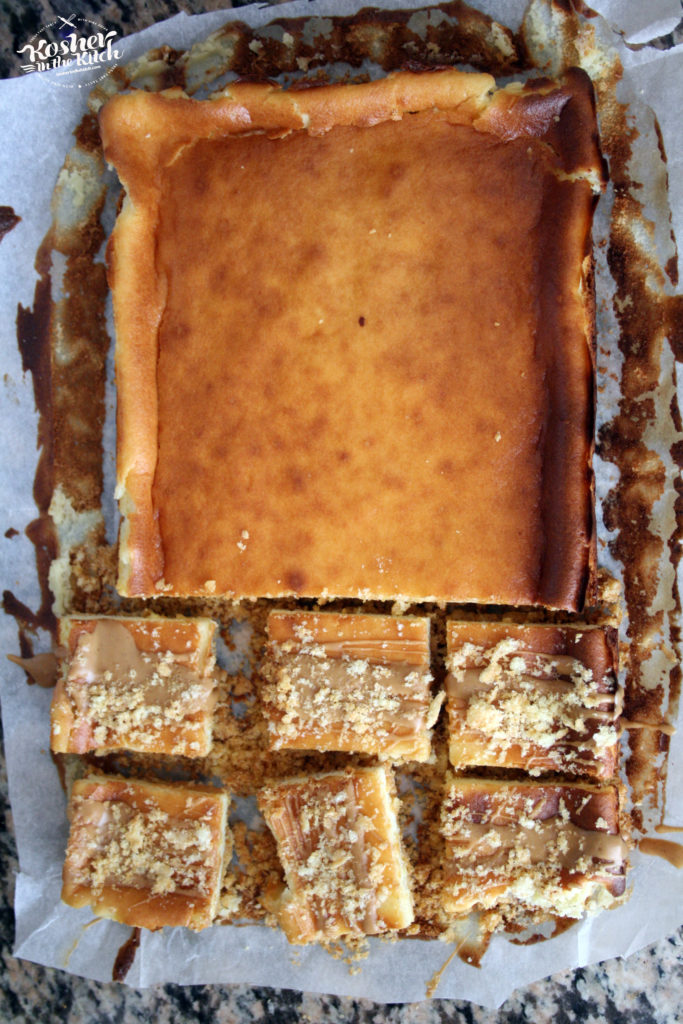 Peanut butter lovers I got you. This dessert is going to rock your world. It's a PB lovers dream. With layers of crushed peanut butter bamba, rich creamy cheesecake topped with melted peanut butter and MORE crushed bamba one slice will be more than enough to satisfy your cravings but you will have a hard time stopping with just one. Best served with a cold glass of milk (or iced coffee!) on the side.
Ingredients for Crust:
8 cups bamba, crushed
4 Tablespoons butter, melted
Ingredients for Cheesecake:
12 oz of whipped cream cheese (1 and a half containers if using 8 oz containers)
1/2 cup of sour cream
2 eggs
1/2 cup of sugar
1 tablespoon vanilla sugar
Ingredients for Topping:
1/2 cup peanut butter, melted
1 cup bamba, crushed
Directions:
Combine crushed bamba and melted butter. Press firmly into baking sheet. (You can use a round springform pan, any round baking dish, or individual baking dishes. You can also use a cupcake pan for mini cupcakes) Bake on 350′ for 10 minutes. While crust is baking, combine ingredients for cheesecake, then pour over baked crust. Bake on 350′ for about 45 minutes to an hour if using a large sized baking dish. If using individual servings bake for about 35 to 40 minutes. Allow cheesecake to cool off. Drizzle melted peanut butter over cheesecake and top with crushed bamba.