July 4th Recipes with Family Fun Magazine
Happy 4th of July! My friends at Family Fun Magazine are sharing some of their favorite recipes with us here on Kosher in the Kitch to celebrate the holiday weekend. I have included non dairy options for the dairy ingredients so you can make all recipes non dairy and serve them alongside all meat and chicken dishes at your bbq without mixing meat and dairy (which is not Kosher)
Peach Iced Tea
Say cheers to the red, white, and blue with a sweet summer sipper.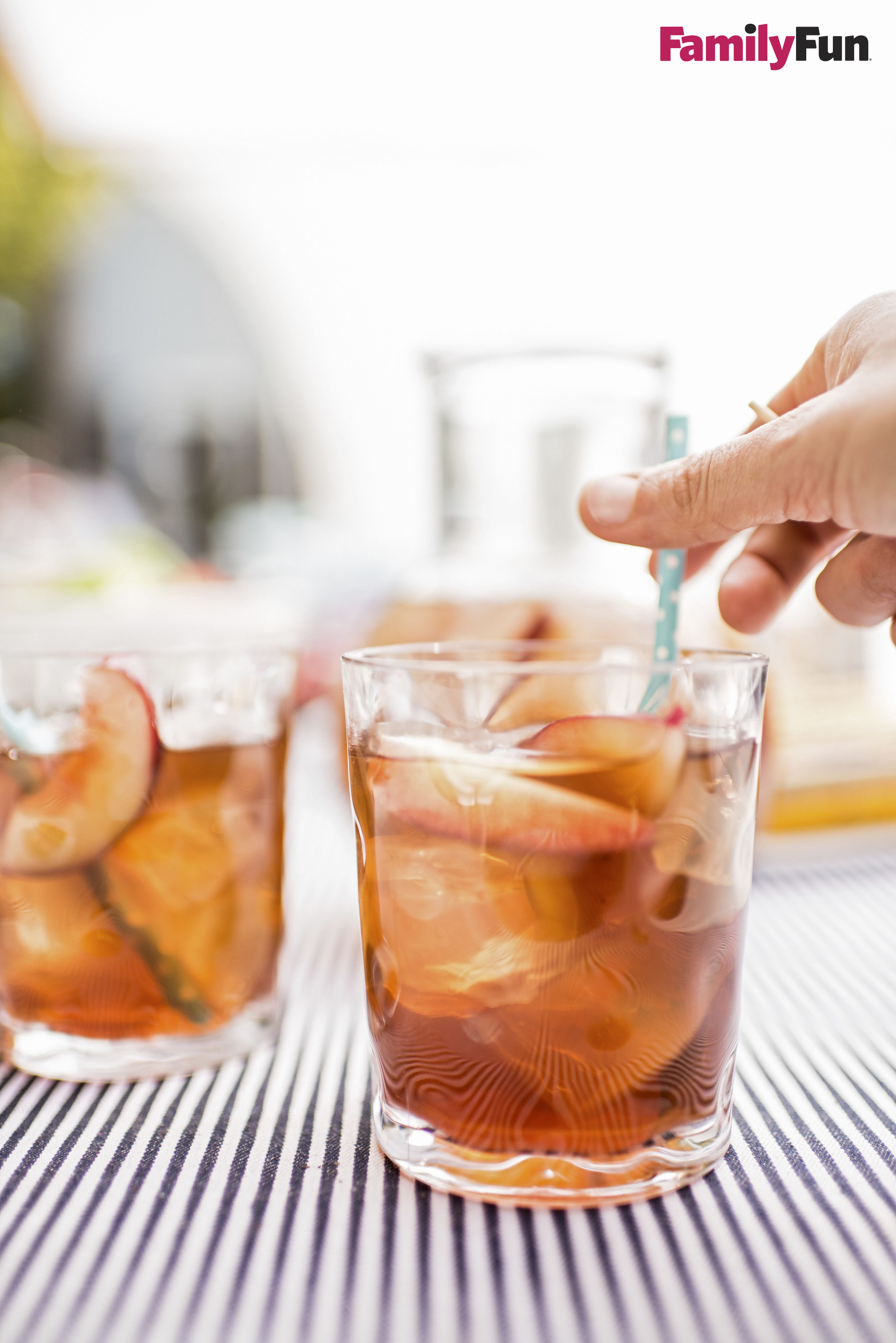 MAKES 10 SERVINGS
INGREDIENTS
1 cup sugar
7 cups water, divided
3 peaches, divided
4 decaffeinated black tea bags
1. Combine sugar, 1 cup of water, and two peaches (pitted and chopped) in a small pot. Bring to a boil, then reduce heat and simmer, stirring occasionally, until the sugar is dissolved, about 6 minutes.
2. Remove mixture from heat and let sit 30 minutes. Then strain mixture through a fine-mesh sieve into a large pitcher.
3. Bring 6 cups water to a boil; remove from heat. Steep tea bags in the hot water for 10 minutes.
4. Carefully pour tea into pitcher with the peach syrup and refrigerate until chilled.
5. Pit and thinly slice the remaining peach.
6. Serve on ice, garnished with peach slices.
Triple-Berry Float
We packed loads of berry flavor into this cool Fourth of July float.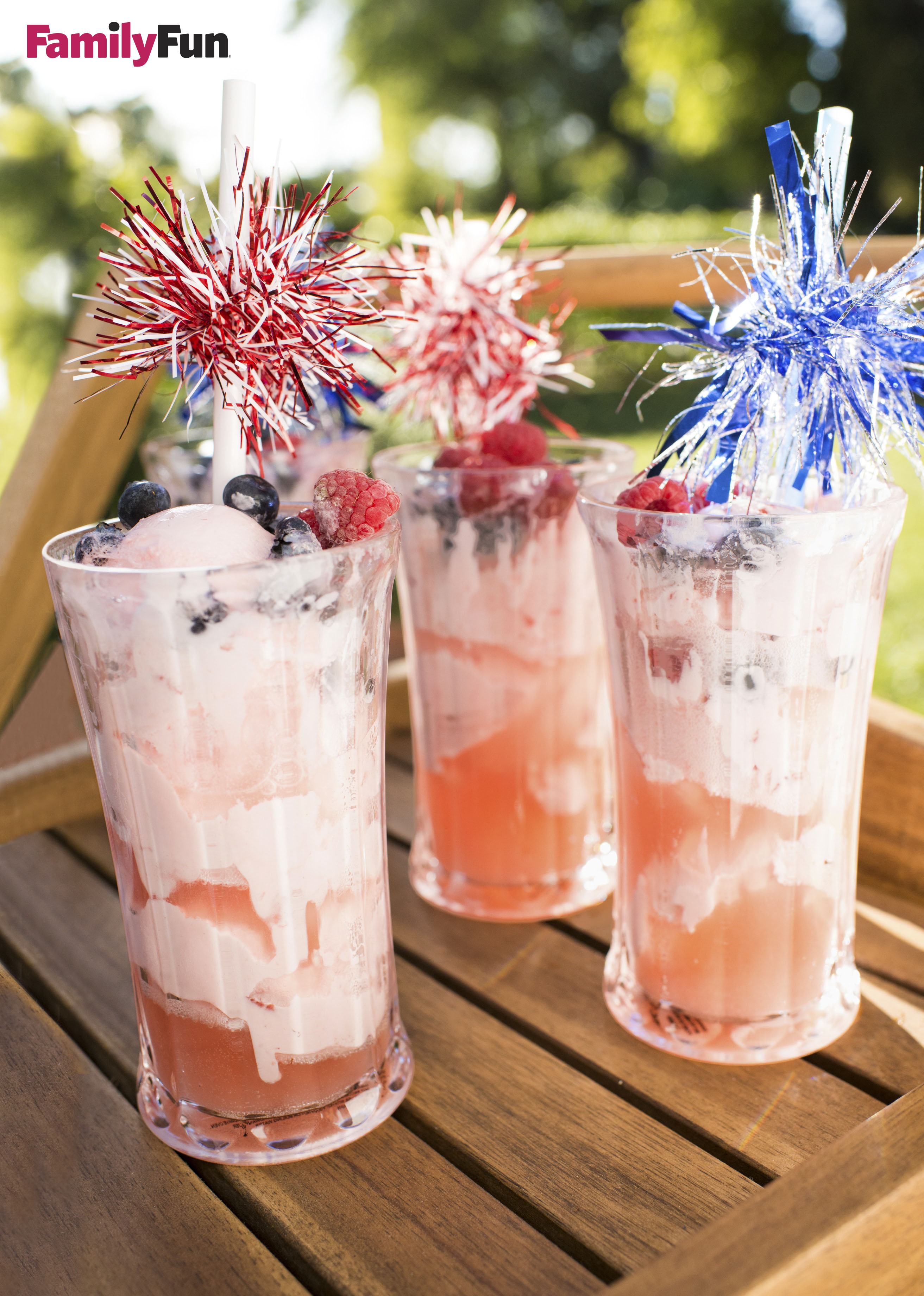 MAKES 8 SERVINGS
INGREDIENTS
1 half-gallon container of
strawberry ice cream
1 cup blueberries
1 cup raspberries
1 quart raspberry ginger ale
1. Fill 8 large glasses with 2 scoops of ice cream each. Divide berries among glasses.
2. Top each off with ½ cup of ginger ale.
Sparkling Pastry Stars with Strawberry Whipped Cream
This simple dessert will be the star— literally!—of your block party.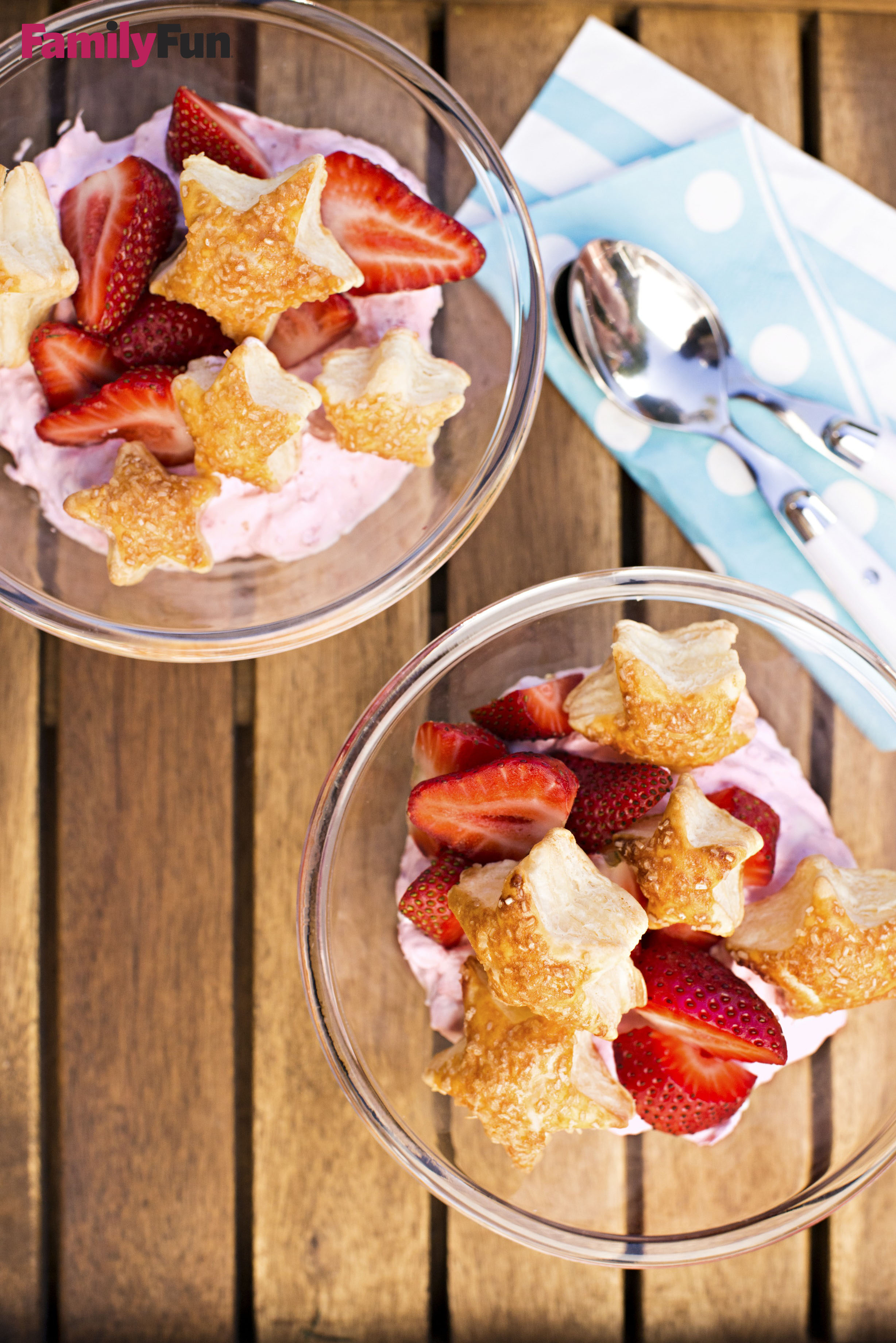 MAKES 12 SERVINGS
INGREDIENTS
2 sheets frozen puff pastry sheets, thawed
2 tsp. coarse sugar
2 cup strawberries, trimmed and halved, divided
1 cup heavy whipping cream (rich whip to make it non dairy)
2 Tbs. confectioners' sugar
1. Preheat oven to 400°F.
2. Using a cookie cutter, cut out as many stars as possible from the puff pastry.
3. Arrange on two parchment-lined baking sheets and sprinkle with coarse sugar.
4. Bake at 400°F until puffed and golden, about 12 minutes.
5. Place 1 cup of strawberries in a food processor and puree until smooth. Combine heavy whipping cream and confectioners' sugar in a large chilled bowl. Using an electric mixer, whip until soft peaks form. Add the strawberry puree and continue to whip until stiff peaks form.
6. Serve pastry stars on top of a dollop of whipped cream. Top with strawberries.
Patriotic Whoopie Pies
Fun sprinkle decorations give these sweet sandwiches some patriotic pizzazz.
MAKES 15 SERVINGS
INGREDIENTS
FOR THE CAKES
1 stick unsalted butter, at room temperature
1 cup packed dark brown sugar
4 oz. bittersweet chocolate, melted
1 tsp. vanilla
2 large eggs
2 cups all-purpose flour
¼ cup Dutch-process dark cocoa powder
1 tsp. baking soda
½ tsp. salt
½ cup buttermilk (combine 1 tablespoon raw vinegar or lemon juice with 1 cup canned coconut milk for a non dairy version)
FOR THE FILLING
4 Tbs. unsalted butter, at room temperature
1 cup confectioners' sugar
1¼ cups Marshmallow Fluff
1 tsp. vanilla
Red, white, and blue sprinkles
1. To make the cakes, preheat the oven to 350°F and line two baking sheets with parchment paper. Cream butter and brown sugar with an electric mixer until combined, then beat in chocolate and vanilla. Add eggs one at a time, beating well after each.
2. In a large bowl, whisk together flour, cocoa powder, baking soda, and salt. With the mixer set to low, add half the flour mixture to the butter mixture and beat. Mix in buttermilk and remaining flour mixture. Beat until combined.
3. Drop rounded tablespoons of batter onto the prepared baking sheets. Bake for 11 minutes. Cool on the baking sheet for 5 minutes, then move to a rack
4. Meanwhile, make the filling: Beat butter with a mixer until smooth. Gradually add confectioners' sugar until combined. Add Marshmallow Fluff and vanilla and mix well. To assemble whoopie pies, sandwich a heaping tablespoon of filling between two cakes. Roll edges in sprinkles.
Recipes via FamilyFun magazine. View more July 4th recipes and crafts HERE.