Host or be hosted – 5 Tips to get you ready for the Holidays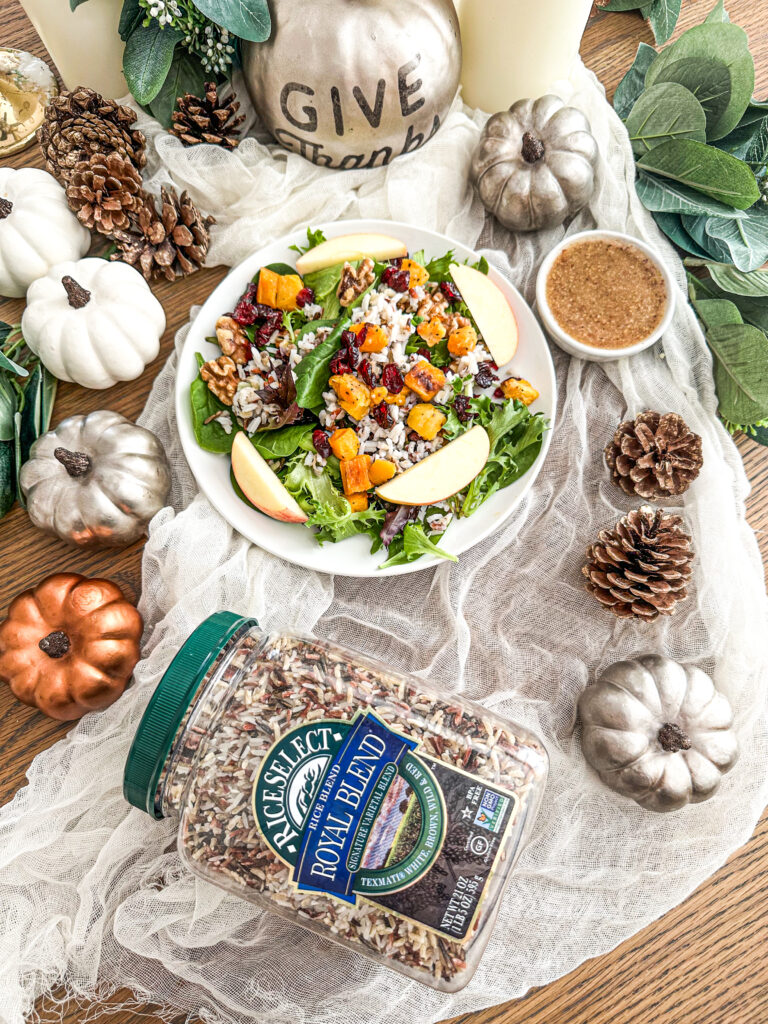 Fall tastes delicious with this super flavorful and hearty salad featuring roasted butternut squash, RiceSelect Royal Blend Rice, mixed leafy greens, sliced apples, dried cranberries, and walnuts topped with a zesty honey mustard vinaigrette. This salad is perfect for serving throughout the holiday season, especially over Thanksgiving weekend, since it is super simple and each ingredient can be prepared in advance and stored in the refrigerator separately for easy assembly. ​
The holiday season is fast approaching, and with it comes the joy of hosting friends and family for festive meals. Whether you're preparing for Thanksgiving or another holiday gathering, these five tips will help you create a warm and memorable experience for your guests. ​
​
Plan Ahead:​
Hosting a successful holiday meal begins with careful planning. Start by creating a detailed menu, taking into account dietary restrictions and preferences of your guests. Make a shopping list and check that you have all the necessary ingredients and utensils before you head out to the grocery store. Plan your cooking schedule, allowing enough time for preparation and ensuring everything is ready when your guests arrive.​
​
Keep it Simple:​
While it's tempting to want to impress your guests with an elaborate meal, keeping things simple can actually be more enjoyable for everyone. Stick to dishes that you know how to make and that don't require too much prep work. (like my recipe below for Fall Harvest Salad, it's supper simple and can be prepared in advance) ​
​
Create a Welcoming Atmosphere:​
Set the tone for your holiday gathering by creating a warm and welcoming atmosphere. Decorate your home with festive touches, such as seasonal centerpieces, candles, and soft lighting. Play some soft background music to enhance the ambiance. Consider providing cozy blankets or throws for guests to snuggle up with after the meal. (this is a personal favorite of mine! I also keep extra cozy socks next to my sofa for anyone who wants to kick off their heels and relax) ​
​
Embrace the Spirit of Potluck:​
Hosting a holiday meal doesn't mean you have to do all the cooking yourself. Embrace the spirit of potluck by inviting your guests to contribute a dish or two. This not only lightens your workload but also adds variety to the menu and allows everyone to showcase their culinary skills. Coordinate with your guests in advance to ensure a well-rounded meal. (as much as we all like dessert no one really needs 5 pumpkin pies) ​
​
Focus on Quality Time:​
While delicious food is undoubtedly a highlight of holiday meals, it's equally important to focus on quality time with your loved ones. Encourage engaging conversations and create opportunities for connection by setting up cozy seating areas or arranging group activities. Remember, the true essence of the holidays lies in the joy of being together.​
Most importantly, when you find yourself stressing out about whether or not the food tastes good or you have enough of it,   remember that the holidays are meant to be a time of joy and celebration and your guests are just so happy to be invited out for dinner and are grateful they aren't the ones doing the dishes that they don't really care what you serve. \They are just happy to be there. So embrace the spirit of the season, savor the delicious food, and cherish the precious moments shared with your loved ones. Happy hosting!​
​If you are joining a meal as guest and not hosting, here are two tips on what to bring your host. ​
​
Bring a Thoughtful Gift: Show your appreciation for your host's efforts by bringing a thoughtful gift. Consider bringing a bottle of wine, a bouquet of flowers, or a homemade dessert. You

could also bring a small, personalized gift that reflects your host's interests or hobbies. The key is to choose something that you know your host will appreciate and enjoy. If bringing flowers,

reminder to prepare it in a vase beforehand so as not to create additional work for your host. If bringing dessert, I love bringing a serving dish with it that the host can keep afterwards. This is 

sort of a two in one gift that everyone enjoys! 

​
​
Offer to Contribute to the Meal: Another great way to show your gratitude is by offering to contribute to the Thanksgiving meal. Ask your host if there's anything specific they would like you

to bring, such as a side dish, appetizer, or a favorite family recipe. This not only helps alleviate some of the cooking burden for your host but also adds variety to the meal and allows you to

showcase your culinary skills.

​
Remember, the gesture itself is what matters most, so choose something that you genuinely believe your host will appreciate.
​
Fall Harvest Salad Featuring RiceSelect Royal Blend rice, dried cranberries, roasted butternut squash, mixed leafy greens, sliced apples, and walnuts topped with a mustard vinaigrette ​
Ingredients:​
4 cups mixed leafy greens​
1 apples thinly sliced ​
1/4 cup of walnuts​
1/4 cup dried cranberries ​
1 cup prepared RiceSelect Royal Blend rice​
1 cup roasted butternut squash cubes (recipe below) ​
Mustard vinaigrette (recipe below) ​
​Instructions:​
Layer lettuce in a large bowl or serving platter. Top with sliced apples, walnuts, dried

cranberries, Royal Rice blend, and roasted butternut squash. Add mustard vinaigrette

right before serving. 

​
​
Honey Mustard Vinaigrette ​
Ingredients:​
2 tablespoons lemon juice​
1 tablespoon Dijon mustard​
1 tablespoon honey​
2 tablespoons red wine vinegar​
Salt and pepper to taste​
4 tablespoons olive oil​
​Instructions:​
In a small bowl, whisk together the lemon juice, Dijon mustard, honey, and red wine

vinegar until well combined.

​

Season with salt and pepper to taste.

​
Slowly drizzle in the olive oil while whisking continuously until the vinaigrette is emulsified and well blended.​
Taste and adjust the seasoning if needed.

​
​Dressing can be stored in a sealed container in the refrigerator for up to one week.
Roasted Butternut Squash ​
​Roasted butternut squash cubes are a delicious and easy addition to a salad. ​
​Ingredients:​
1 medium-sized butternut squash​
2 tablespoons olive oil​
Salt and pepper to taste​
Optional: herbs or spices of your choice, such as cinnamon, cumin, or rosemary​
Instructions:​
Preheat your oven to 400°F (200°C).

​

Cut off the top and bottom of the butternut squash, then slice it in half lengthwise.

​

Use a spoon to scoop out the seeds and pulp from each half.

​

Cut butternut squash into bite-sized cubes, about 1 inch (2.5 cm) in size.

​

In a large bowl, toss the butternut squash cubes with olive oil and seasonings of your choice, such as salt, pepper, and herbs or spices.

​

Arrange the seasoned butternut squash cubes on a parchment lined baking sheet in a single layer.

​

Roast butternut squash cubes in preheated oven for 25-30 minutes, or until they are tender and lightly browned on the outside.

​

Remove the baking sheet from the oven and let the roasted butternut squash cubes cool for a few minutes before serving.