Chocolate Macaroon Cake with Orange Buttercream (Passover Birthday Cake}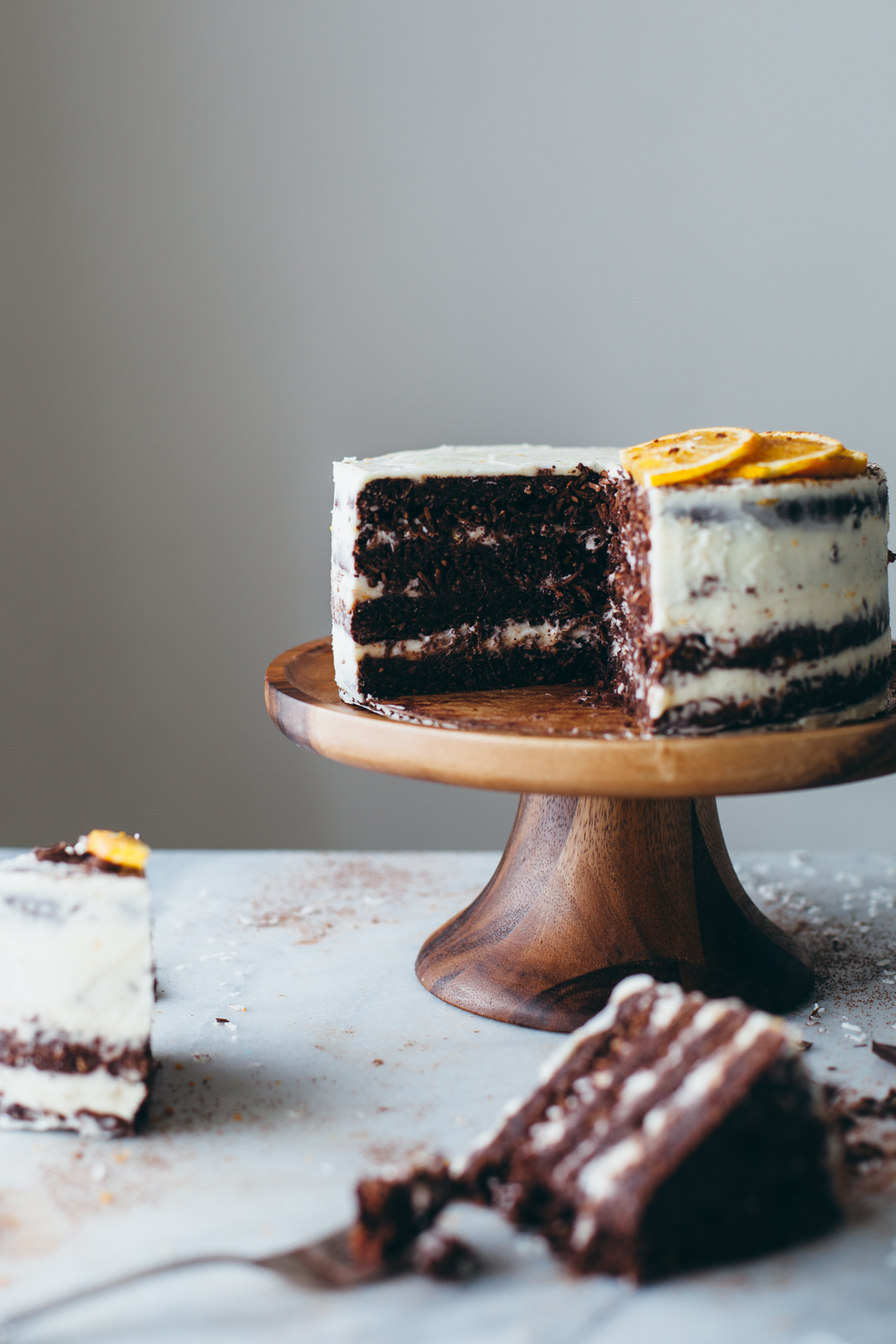 My birthday is the first night of Passover. After eating some moror (bitter herbs) my mom went into labor and gave birth to a Passover baby, ME! Thirty Years later my family still jokingly calls me the bitter baby and I have yet to know the joys of a fully frosted fantastic birthday cake that only chometz can provde. Since this year is the big 30 I wanted to celebrate with something epic (and by epic I mean layers of chocolate cake smothered in frosting) I turned to Molly, the adorable genius behind the blog My Name is Yeh. Her creative culinary confections always leave me wanting to lick my screen so I figured if anyone could do it, she could. Man did she deliver! Look at this beauty. Layers of chocolate cake (check) Frosting (check) Now I just need to bake one up for myself so I can get it in my belly for my birthday! Thank you Molly I can't wait to dig in xx
Servings: makes one 8-inch cake
Ingredients
Cake:
2 14-oz bags sweetened shredded coconut
1 1/2 c unsweetened cocoa powder
1 tsp kosher salt
4 tsp vanilla extract
4 large egg whites
2 14-oz cans sweetened condensed milk (you can make your own here)
frosting:
2 c unsalted butter, softened
4 c powdered sugar
a pinch of kosher salt
zest of one orange
2 tsp orange juice
assembly:
chocolate shavings
cocoa powder
orange slices
Clues
Cake:
Preheat oven to 350. Grease four 8-inch round cake pans and line the bottoms with parchment. (it's ok if you don't have four pans, you can just bake the layers in batches.) In a large bowl, mix together the coconut, cocoa powder, and salt. In a separate bowl, whisk together the vanilla extract, egg whites, and condensed milk. Add the wet ingredients to the dry ingredients and stir to combine. Spread one fourth of the batter into each cake pan (these will be very thin layers) and bake for about 18 minutes, until they're no longer shiny. Let cool for 5-10 minutes in their pans and then turn onto a drying rack to cool fully.
Frosting:
Beat all frosting ingredients together until smooth.
Assembly:
Stack up your layers with a thin layer of frosting in between them and then frost the cake all over. Decorate with chocolate shavings, cocoa powder, and oranges slices as desired. Enjoy!
~ Recipe created by Molly of My Name is Yeh