Cheesecake Board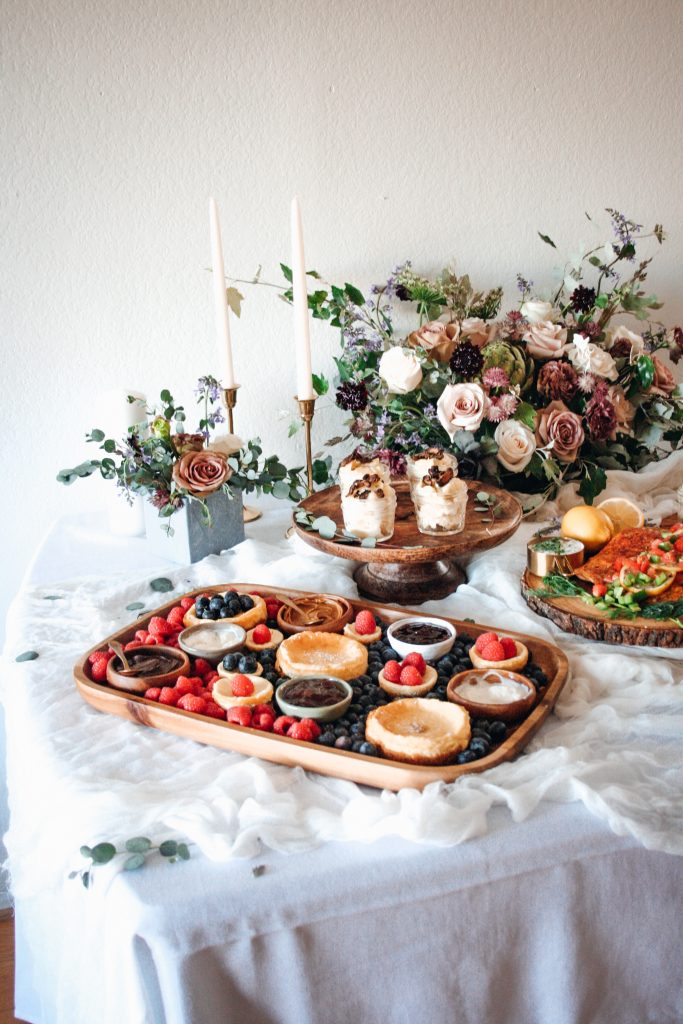 Classic creamy cheesecake served on a board with delicious toppings so everyone can enjoy their favorite flavors. Perfect for hosting on Shavuot, Sunday brunch or a baby shower or birthday party.
Ingredients for Cheesecake Crust:
2 cups graham cracker crumbs
1/4 cup melted butter
Directions for Cheesecake Crust:
Combine graham cracker crumbs and melted butter. Scoop mixture into choice of mold for cheesecake. You can use a large round springform pan, cupcake tin, a square or rectangle shaped pan for cheesecake squares or a mini cupcakes pan. Press down firmly. Bake on 350′ for 10 minutes.
Ingredients for Cheesecake Filling:
12 oz of whipped cream cheese (1 and a half containers if using 8 oz containers)
1/2 cup of sour cream
2 eggs
1/2 cup of sugar
1 tablespoon vanilla sugar or vanilla extract
Directions for Cheesecake Filling:
In a large bowl using a hand mixer, combine ingredients together until smooth. Scoop cheesecake batter over graham cracker crust. Bake on 350′ for 25 to 60 minutes depending on size of crust. Allow to cool off before displaying on cheesecake board.
Ingredients for Cheesecake Board:
When you are ready to assemble your cheesecake board you can use any of the following. Cheesecake, preferably in different sizes. Raspberries, strawberries, blueberries, blackberries, chocolate sauce, caramel sauce, cookie butter, sprinkesl, colorful cereal, chocolate cereal, chocolate chips, dried fruit, mini marshmallows.