Buffalo Latkes with Ranch Dressing
If you like buffalo wings you are going to love these buffalo latkes with Lipton Kosher creamy ranch dressing! Crispy potatoes latkes fried then dipped in a mixture of melted butter and hot sauce, served with sliced carrots and celery and creamy ranch dressing. It's the perfect dish to serve at your Hanukkah party. Your guests will love them!
Ingredients:
Potato Latkes:
4 cups shredded potatoes (1 lb) Frozen hash browns work great! Defrost first.
1 small onion, chopped
2 eggs
2 tablespoons flour
1 teaspoon salt
1/4 teaspoon black pepper
Buffalo sauce mixture:
1/4 cup melted butter
1/4 cup hot sauce (buffalo flavored)
Ranch dressing:
16 oz. sour cream
1 packet Lipton Kosher ranch dressing
Sliced carrots, for serving
Sliced celery sticks, for serving
Directions:
Combine potato latke ingredients together in a large bowl. Using a tablespoon measuring spoon for bite sized latkes and an ice cream scooper for larger latkes, cook batter in batches. Frying until both sides are golden brown. Careful to heat the pan up until very hot before adding batter to it. The oil should sizzle! Be careful not to flip the latkes over until the edges are slightly browned. While latkes cook prepare buffalo sauce mixture by combining melted butter and hot sauce. Set aside. Combine sour cream and ranch dressing packet. Once latkes are cooked coat in hot sauce mixture then arrange on serving plate with sliced celery, carrot sticks and ranch dressing. Serve immediately.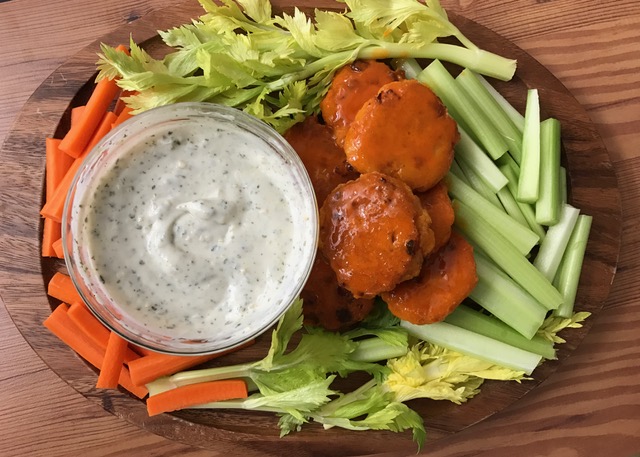 ** This post is sponsored by Lipton Kosher. Lipton Kosher & Kosher in the Kitch are collaborating to bring you deliciously easy recipes using Lipton Kosher Ranch mix.