Baked penne with mushrooms and cheese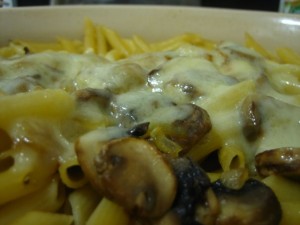 Ingredients:
1/2 box penne pasta
about 5 or 6 mushrooms, sliced
1/2 medium onion, diced
3 cloves of garlic
pinch of salt
lemon pepper, or reg. black pepper
olive oil
1/8 stick butter
3 slices of swiss cheese
Directions:
1. In a skillet, heat 1 TBS. olive oil and sautee the onions until they start to brown, then add garlic, and mushrooms.
2. Boil water and cook penne for 5 minutes. Remove from heat, and drain under cold water.
3. In a casserole dish, add about 1 teaspoon of olive oil and spread on bottom (this is optional, and if you don't like your pasta to be too buttery skip this step).
4. Add pasta and salt, pepper.
5. Cut the butter into about 6 pieces and place throughout the dish. Miix pasta together.
6. Spread the onions, garlic and mushrooms on top.
7. Place the slices of cheese across the top.
8. Bake at 350 for about 15 minutes, until the cheese has melted.
~ Recipe submitted by Kseniya