Roasted turkey with apple sage glaze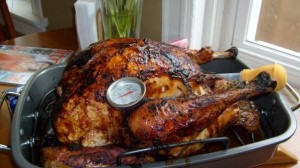 RECIPE: Adapted from Bobby Flay's recipe. I just eyeball everything, but here's an estimate.
First I coat the turkey with olive oil, kosher salt, fresh cracked black pepper, onion powder, garlic powder and roast.
Glaze
2 cups apple cider juice
1 cup apple sauce
2 T apple cider vinegar
2 T brown sugar
2 T maple syrup or honey
1 bunch fresh sage
Combine all ingredients except the sage, and bring up to a boil. Then, add sage and simmer until it reduces by about half. Remove sage and when it is thick & sticky..brush over turkey continuously. This is also a great recipe for chicken.
Enjoy :)
~ Recipe submitted by Chef Sandy Stollar