Mini French Toast
Growing up, Sunday mornings meant waking up to pancakes or french toast. Sometimes I miss the wake up call of a sugary sweet breakfast waiting for me as I roll out of bed. Since I am now the "mama" in My house, I can't just walk into the kitchen and grab a plate. I have to actually whip up the weekend treat first before digging in. Today was one of those mornings were the craving was greater than my fear of doing the dishes so I made these mini french toasts. This recipe can be used with regular challah or challah rolls. I had leftover rolls from shabs so I went with the mini version! My son was thrilled to dip his french toast into the syrup and my husband who doesn't usually like sweet breakfasts, noshed on a few as well.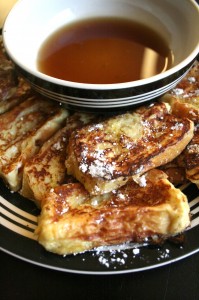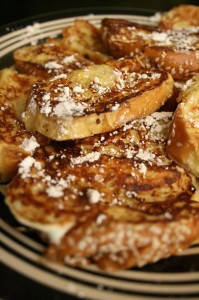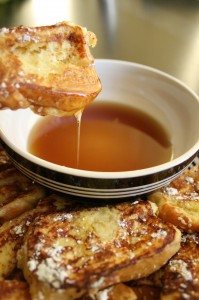 Ingredients:
2 challah rolls, sliced into 1 inch thick slices
1 cup of milk
2 eggs
1/4 teaspoon vanilla extract
1/4 teaspoon cinnamon
Directions:
Combine the milk, eggs, vanilla and cinnamon in a large mixing bowl. Dip the challah slices into the batter and fry in a heated greased frying pan. I use pam but you could also use butter, margarine or some oil to heat the pan. After several minutes flip to the other side and cook until slightly browned. Serve with confectionary on top and syrup on the side.
– Recipe submitted by Nina Safar