Snap Peas, Garlic, Red Peppers & Sesame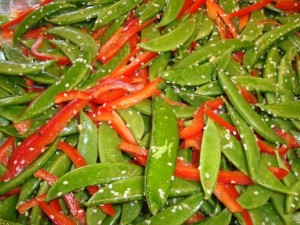 This is simple. Just eyeball it!
Olive oil
Garlic, minced
ginger, minced (optional)
Red pepper julienne (strips)
Snap peas
Toasted sesame seeds
Salt & pepper
Heat garlic and ginger in olive & saute until golden brown. Add red pepper until slightly soft, and then the peas until they turn bright green. Sprinkle sesame seeds on top and serve hot or room temp.
Enjoy :)
~ Recipe submitted by Chef Sandy Stollar