RadioShack Black Friday Deals
** I participated in a campaign on behalf of Mom Central Consulting (#MC) for RadioShack. I received a gift card to facilitate a shopping trip and promotional item as a thank you for participating.

I love a good deal. A good holiday deal is like a present with extra shiny wrapping paper. I consider Black Friday to be a holiday all on it's own. I keep a wish list of gifts that I would like to receive and as well as give to others, and I put out google alerts so I am notified the moment one of them goes on sale. This year I was contacted by RadioShack to do some holiday shopping, and once they told me about their 'Name Your Deal' promotion I was super excited to get started on a NEW wish list! 

This Black Friday RadioShack is giving the best gift of all, they are allowing customers the chance to select their very own holiday deals! With "Name Your Deal", customers had the opportunity  to vote on which deals they wanted most. There were pre selected items that had special offers attached and voters selected their favorites. The items with the most votes then went on sale with the deal that was being promoted with them (I really want to see a holiday deal on both the fitbit and the samsung galaxy, two items that just so happen to be on my own holiday wish list of gifts I would like to recieve!)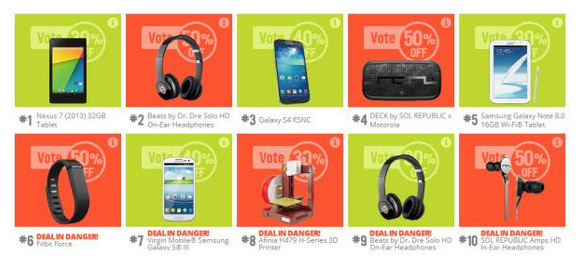 If you want to see the deals that have selected and get a coupon code to use for your holiday shopping, go to RadioShack (deals listed as of November 27 9am ET) to see the winning deals and have a chance to grab a coupon code for yourself! Check the site HERE for all of the holiday deals being offered! What is on YOUR wish list this holiday season? Are there any RadioShack deals you are hoping to score?
If you missed the Name Your Deal offer, don't be bummed! RadioShack is offering Black Friday deals up to 80% off starting Thanksgiving Day. If you are super busy and missed THOSE deals (Black Friday Chaos!) it's ok, there is still time to catch Cyber Monday deals starting December 2nd at 12:00am! Store info and holiday hours listed below.