Pomegranate Coleslaw: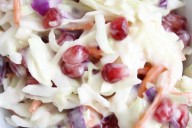 I love the pop of color and sweet tart crunch pomegranate seeds add to coleslaw. It's the perfect dish to serve on Rosh Hashanah or over the holiday season around Chanukah and Thanksgiving. For Hanukkah I serve the colorful salad on top of latke sliders with shredded bbq chicken.
Ingredients:
Coleslaw Mix
2 T mayo
Juice of 1 lemon
1 T sugar
1/4 cup Pomegranate seeds
Directions:
Combine coleslaw mix with mayo, lemon and sugar. Top with Pomegranate seeds before serving.
~ Recipe submitted by Nina Safar