Herb Crusted Baked Onion Rings
I love anything breaded and fried that can be eaten with your fingers and dipped into ketchup, or garlic mayo or honey mustard dipping sauce. Or ketchup. Since I don't like to fry things up in my kitch, I'm forever on a quest to find out whether or not {insert fried food here} tastes good baked. Baked potato fries are totally delish. Same goes for baked schnitzel. Baked Cauliflower? Yum. Next up on the baked taste test were onion rings. I baked them in an herb crusted coating of bread crumbs and fresh lemon basil (which smells amazing! I'm obsessed with it. I throw it in pasta dishes, salsa, and bread crumbs for a great fresh kick of flavor)
The verdict? Crispy and delicious! The outside is crunchy but the onion is still tender which makes for a great combo! It was hard to save enough for the photo. I kept stealing some from the plate. You know, just to make sure they were good. These would make a great appetizer to a dairy meal, just add parmesan to the bread crumbs mixture. (Yes, I totally whipped up two batches just to test it out and yes, it was totally delish!) Since what you eat is only as good as what you dip it into, I served them up with a honey mustard dipping sauce with some crunchy baked onion rings mixed in.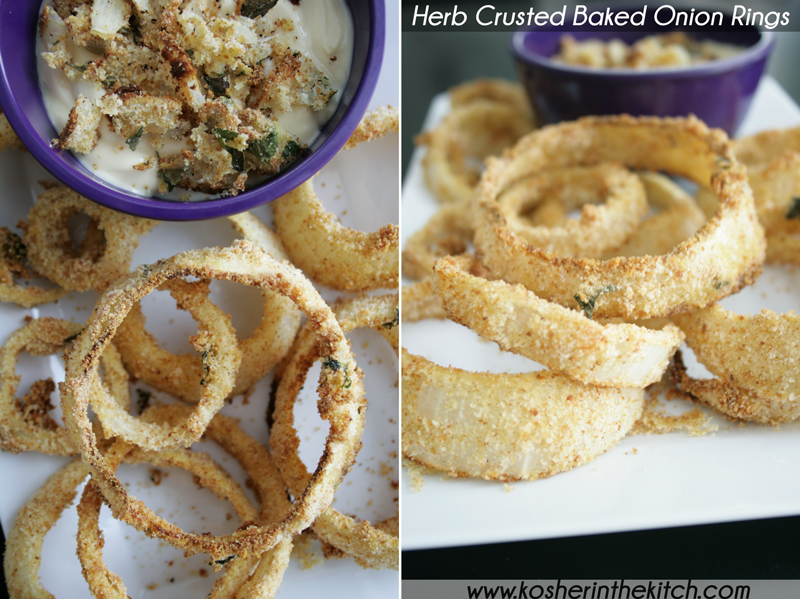 Ingredients:
1 onion
2 eggs plus 1 teaspoon water
1 cup of bread crumbs
2 tablespoons fresh herbs (I used lemon basil)
1/2 tsp. salt
1/2 tsp. black pepper
Directions:
Whisk the eggs and water together in a shallow dish. Combine herbs, salt and pepper and bread crumbs in a separate shallow dish. Peel onion. Cut into rings. Dip the onion rings into egg mixture, then into bread crumbs herb mixture. Place on lightly greased baking sheet lined with parchment paper. (You can spray the rings with cooking oil for an extra crunch!) Bake on 400′ for 25 minutes or until crispy.
Honey Mustard Dipping Sauce:
1/2 cup of mayo
1/4 cup of honey
1/4 cup of djon mustard
3 onion rings chopped
Combine the mayo, honey and mustard until smooth. Top with chopped onion rings for a tasty crunch!
*Tips&Tricks: Add shredded or grated parmesan to the bread crumbs mixture for a deliciously dairy and cheesy taste!
~ Recipe submitted by Nina Safar