Peanut Butter Frosting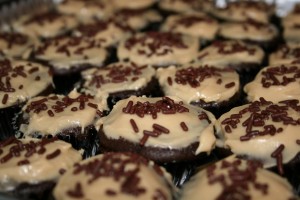 he frosting is a basic butter cream recipe but I substituted the margarine with peanut butter.
Butter Cream Frosting:
3 cups powdered sugar
1/3 cup butter or margarine
1 1/2 teaspoons vanilla extract
About 2 tablespoons milk/ or water or soy milk can be used
Peanut Butter Frosting: Substitute peanut butter for the butter. Increase milk to 1/4 to 1/3 cup.
Be sure to put on the sprinkles before the frosting hardens!
~ Recipe submitted by Nina Safar