Beef Tacos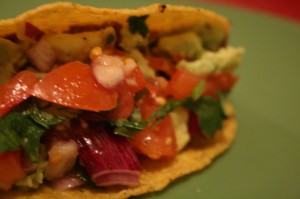 I enjoy a good Mexican dish, and tacos served with tomato salsa and guacamole would be one of my fav! This is a quick and easy easy way to get your fix. The beef can be served in both hard taco shells as well as soft.
Ingredients:
– Ground Beef
– Ortego tacos & taco seasoning mix
– 2 tbl Olive Oil
Directions:
Brown the ground beef with the oil in a pan. After the beef has browned, drain the water from the pan, and add about a cup of water to the meat along with the seasoning mix (it says the exact amount of water on the packet of the seasoning mix) Warm up the tacos in the oven but be careful not to leave it in for more than a few min b/c it heats up quickly and will burn!
Click here for the salsa recipe
and here for the guacamole recipe
~ Recipe submitted by Nina Safar