Apple Spice Pumpkin Muffins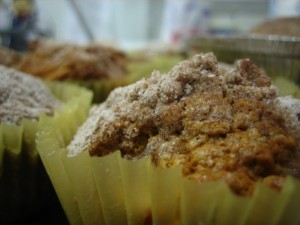 this recipe yields about 1 1/2-2 dozen muffins, but I made a dozen muffins and a small cake (7 inch cake pan)
Muffins:
2 1/2 cups flour
2 cups sugar (can use 1 cup white and 1 cup brown but make sure to sift the flour afterwards as the brown sugar tends to clump)
1 TBS. pumpkin spice (can alternate with 1 tsp. cinnamon AND 1 tsp. ground cloves)
1 tsp. baking soda
1/2 tsp. salt
2 eggs
1 cup (not one can) canned or cooked pumpkin
1/2 cup veg oil (can sub with applesauce)
2 cups finely chopped apples (cored and peeled)
Streusel Topping:
1/4 cup sugar
1 heaping tablespoon flour
4 tsp. cold butter or margarine
1 tsp. cinnamon
1. Mix flour, sugar, spice, b.soda and salt. In another bowl, combine egg, pumpkin and oil until it forms one smooth texture.
2. Stir the puree into dry ingredients just until moistened. Fold in apples. Fill muffin cups 2/3.
3. In a small bowl, mix sugar, flour and cinnamon.
Cut in butter until crumbly. Sprinkle over batter.
4. Bake at 350'F for 35-40 min. Cool 5 min before transferring to wire rack.
Note: If you are making a dozen muffins and a small cake, fill muffin cups 2/3 of the way as suggested, then pour remaining batter into 7 inch pie pan. Sprinkle both muffins and cake with streusel topping. Bake the cake about 5-10 mins longer.
~ Recipe submitted by Kseniya