Spinach Beef Meatballs with Pomegranate Glaze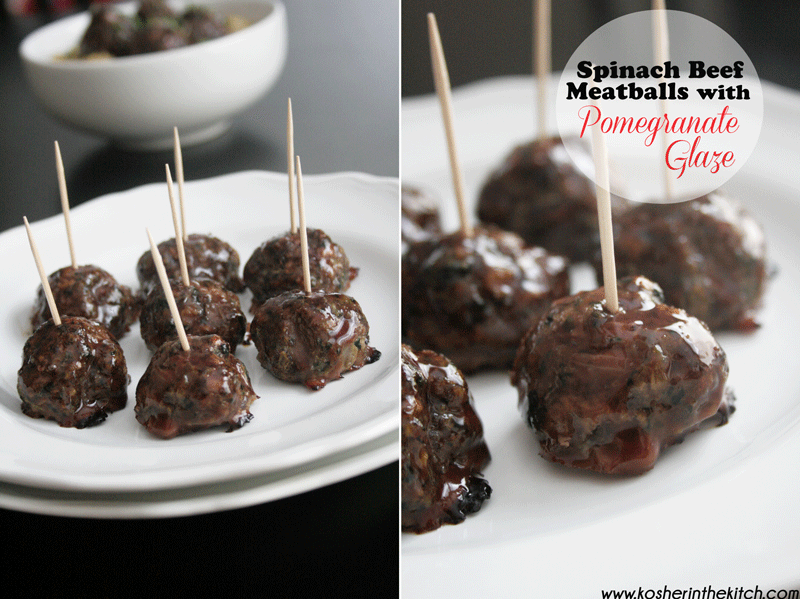 Ingredients:
1 sweet onion, diced
1 tablespoon olive oil
3 cloves garlic, diced
1 cup of frozen spinach
1 lb. ground beef
2 eggs
1/2 cup bread crumbs
1 tsp. salt
1 tsp. montreal steak seasoning
Directions:
Saute onion and garlic in oil until tender. Add spinach and saute until cooked through. Remove from heat and combine with beef in large mixing bowl. Add eggs, bread crumbs and spices to beef mixture. Using wet hands, form 1 inch balls using a tablespoon scooper. Place in oven on greased baking sheet on 400' for 20 minutes until slightly browned. Once cooked, serve over quinoa or rice with Pomegranate Glaze. You can serve this as the main dish or as an appetizer by sticking a toothpick in each meatball and placing pomegranate glaze on the side for dipping.
Pomegranate Glaze:
1 cup pomegranate juice
1/4 cup brown sugar
1/4 cup balsamic vinegar
1 tsp. corn starch + 1 tsp. water
Bring ingredients to a boil then simmer and stir until a glaze forms and thickens. Serve over meatballs.
~ Recipe submitted by Nina Safar