Moroccan Kabobs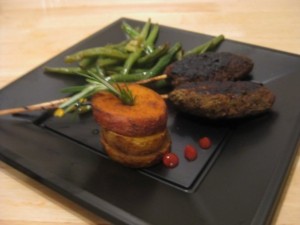 Moroccan kabobs served with greenbeans with scallions & spicy potato stack.
Kabobs (credit: Levana's cookbook with minor changes)
1 med onion
4 cloves garlic
1 bunch parsley with stem
1 tbs cumin
1 tbs paprika
pinch cayenne
2 lbs. ground beef
black pepper to taste
palse onion, garlic, parsley in food processer till chopped
place in bowl and add rest of ingredients and mix. 
I cooked it on the goerge forman, but the book says to broil or grill.
Greenbeens (credits: Kosher By Design)
fry shallots (I used scallions) in oil till crispy
fry greensbeens in 2 Tbs margerine and 2 Tbs olive oil till bright green (about 5 min)
season with salt and pepper.
toss with shallots (or in my cake scallions)
Spicy potato stacks (credit: Kosher By Design Short on Time)
2sweet potatos, and 
2 each of 2 other type of potatos with different color skins (ex.red and gold) all should have apx the same diameter. slice in 1/2″ slices.
2 Tbs barbecue spice 
1/2 cup olive oil
toss and bake in a single layer at 400 in a lines baking pan uncovered for 30-40 min (the cookboook says 20 min.)
– Recipe submitted by Chanie Hagege-Rosenblat