Greek-Style Stuffed Salmon from The Simply Kosher Cookbook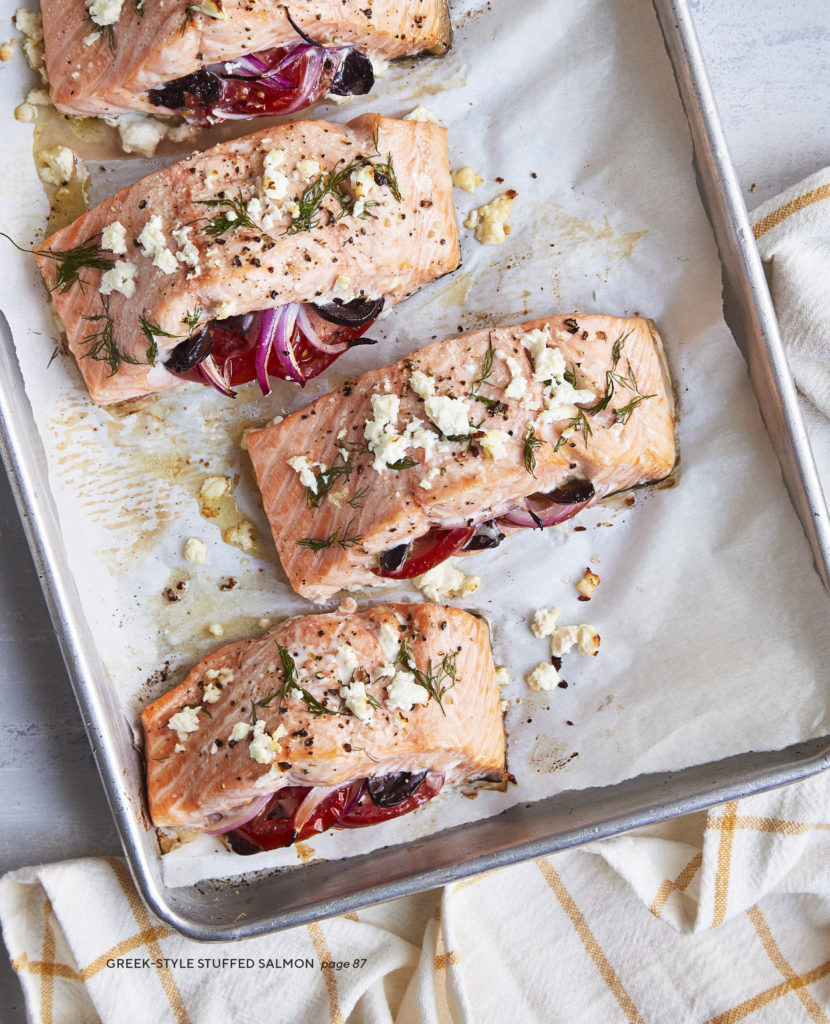 I am so excited to share this recipe from my new cookbook, The Simply Kosher Cookbook! With this delicious recipe, you get your main dish (salmon!) and salad combo all in one. The vegetables cook perfectly with the salmon, the feta cheese melts in your mouth, and the dill dressing adds just the right amount of flavor. It is a really tasty and easy weeknight dinner, but it can also be impressive enough for entertaining. Serve it with a side of jasmine rice or mashed cauliflower to finish o the plate.
DAIRY GLUTEN FREE NUT FREE | SERVES 4 PREP TIME: 10 MINUTES | COOK TIME: 12 MINUTES
Ingredients:
1 tablespoon freshly squeezed lemon juice
3 tablespoons olive oil 2 garlic cloves, crushed
1 tablespoon dill, chopped
1/2 teaspoon salt
1/4 teaspoon freshly ground black pepper
2 pound salmon llet, cut into 4 equal pieces
4 Campari tomatoes on the vine, sliced in half
1 small purple onion, sliced thinly
1/3 cup pitted kalamata olives, thinly sliced
1/4 cup crumbled feta cheese
Directions:
1. Preheat the oven to 450°F. Line a baking sheet with parchment paper.
2. In a small bowl, whisk together the lemon juice, olive oil, garlic, dill, salt, and pepper.
3. Place the salmon on the prepared baking sheet. Using a sharp paring knife, make slits along the length of the salmon, making sure you don't cut all the way through the sh.
4. Brush the salmon with the olive oil–dill mixture, then stu the slits in the sh with the tomato halves, onion, and olives. Top with the crumbled feta.
5. Bake for 12 minutes or until the salmon akes easily with a fork.
Per serving: Calories: 460; Total fat: 32g; Total carbs: 8g; Fiber: 2g; Sugar: 4g; Protein: 36g; Sodium: 599mg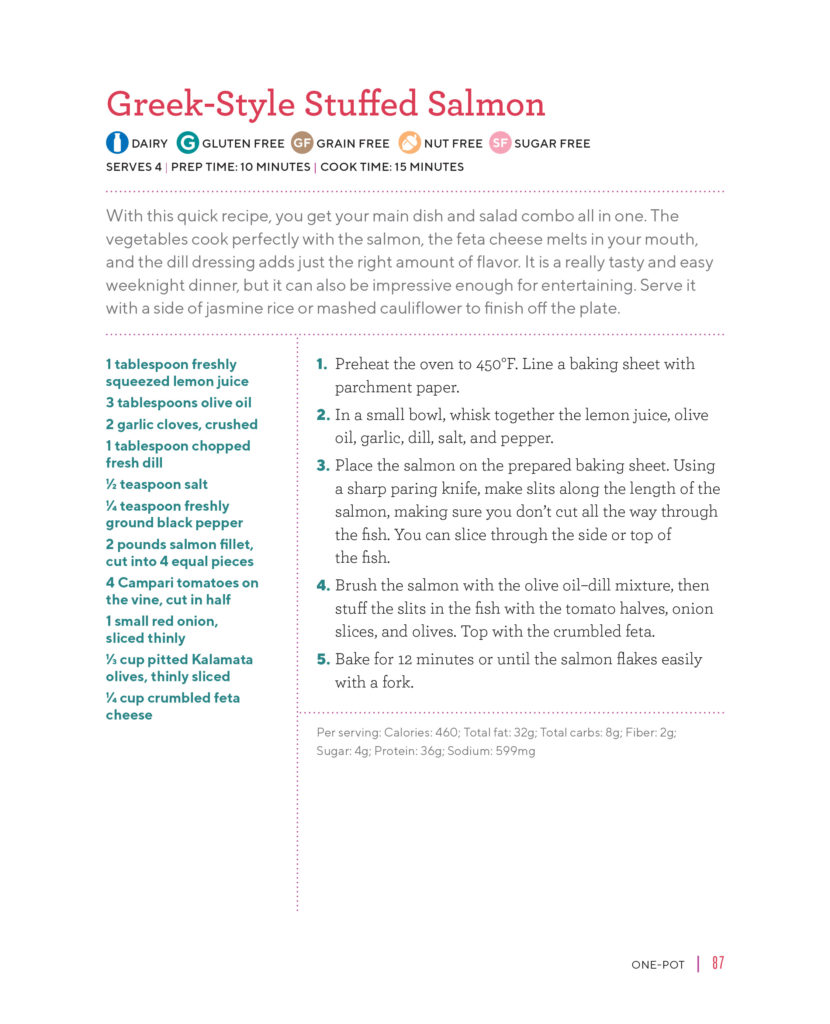 For 100+ DELICIOUSLY Easy Recipes Order The Simply Kosher Cookbook Now!