Crispy BAKED Orange Chicken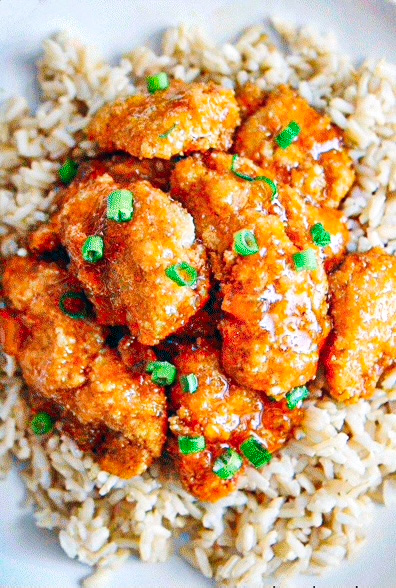 Crispy coated tender pieces of chicken served with a sticky sweet orange glaze that is finger licking good. This recipe is baked not fried. Scooped over rice with a side of steamed broccoli it's simply delicious.
Ingredients:
1 lb. boneless skinless chicken breasts
1 cup of mayo
1 tsp. dijon mustard
2 cups corn flake crumbs
1/2 tsp. salt
1/4 tsp. black pepper
Orange Sauce Ingredients:
1 cup water
1 cup of orange preserves
2 tablespoons orange juice
1 tablespoon soy sauce
1 tsp. crushed ginger
1 clove of garlic, crushed
1 tablespoon corn starch mixed with 1/8 cup of water
1/4 cup chopped scallions
Directions:
Season corn flake crumbs with salt and pepper. Combine mustard and mayo. Coat chicken with mayo mixture then corn flake crumbs. Place on lightly greased baking sheet, spray with cooking oil (PAM) and cook in oven on 350′ for 25-30 minutes until chicken is cooked. While the chicken cooks, prepare sauce by combining sauce ingredients (excluding the cornstarch and water) in a pot on the stovetop over medium heat. Bring to a boil,then add the cornstarch mixed with water and stir until sauce thickens.Once chicken is cooked, serve over rice with sauce and scallions.