string beans with mango sauce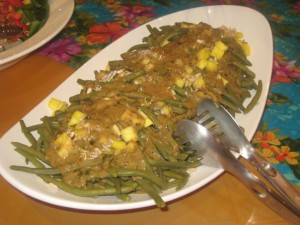 Recipe:
2 pounds string beans, trimmed, boiled and drained.
In the food processor put in:
5 scallions, halved
7 garlic cloves
1/4 cup balsamic vinegar
3 tablespoons water
1/2 cup olive oil
2 tablespoons dijon mustard (i used regular-no prob)
3 tablespoons honey
Pulse until smooth. may be made 3-4 days in advance and kept in the fridge. take out 1/2 hour before serving and shake well.
Pour dressing over string beans. Right before serving add
1-2 mango, peeled and diced
2 handful sunflower seeds.
Enjoy!
~ Recipe submitted by Chaya Sarah Roth