Cauliflower Nachos with Chicken, Guacamole & Pico de Gallo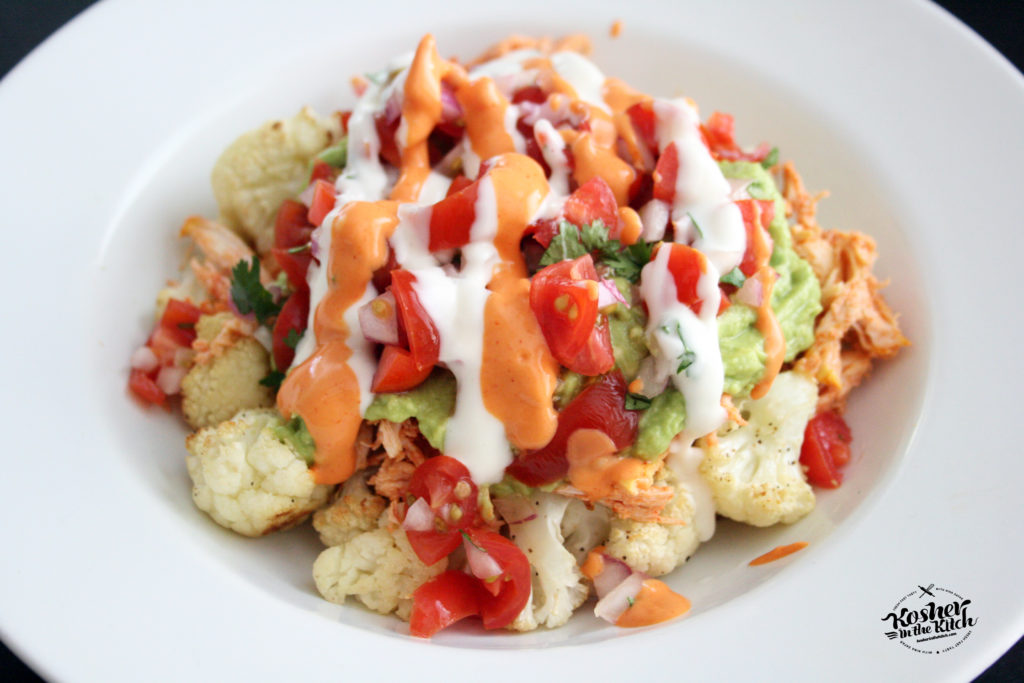 I recently had a foodie date with a friend at Ditmas LA and pretty much devoured my favorite item on the menu, Tony's Fries! It's machaka chicken with guacamole and pico de gallo served over french fries. I enjoyed it so much I knew I had to recreate them in my kitchen for the blog but wanted to shave some calories off the dish by swapping out the fries for roasted cauliflower. I also have no idea how to make machaka chicken so I decided to combine shredded chicken with hot sauce instead. My husband was on his way out to have lunch with a friend but canceled when he saw this on the table. It's insanely good. Like I'm eating it now as I type and I don't care that I'm getting my keyboard dirty good.
Ingredients:
1 head of cauliflower, cleaned and cut into pieces
3 tablespoons hot sauce
1 rotisserie chicken, skin removed and chicken shredded
Guacamole (recipe below)
Pico de gallo (recipe below)
Cilantro lime sauce for serving (recipe below)
Creamy hot sauce for serving (recipe below)
Directions:
Cut cauliflower into pieces. Clean and dry off. Cover a baking sheet with parchment paper then lightly grease paper with cooking oil. Place cut cauliflower on parchment paper and spray with cooking oil. Season with salt and pepper. Roast on 400′ for about 25 minutes until edges are slightly crispy. Remove from oven and set aside. Combine shredded rotisserie chicken with hot sauce 1 tablespoon at a time until desired heat level. (you don't have to use all of it or you can add more if you really like it spicy!) Layer roasted cauliflower, shredded chicken, guacamole and pico de gallo on a serving dish. Top with cilantro lime sauce and creamy hot sauce.
Guacamole:
3 avocados
2 tablespoons lime juice
salt and pepper
Mash avocado then season with lime juice, salt and pepper.
Pico De Gallo:
1 box of cherry tomatoes, diced
1 small red onion, diced
2 tablespoons chopped cilantro
1 tablespoon lime juice
Combine diced tomatoes, red onion, cilantro and lime juice.
Cilantro Lime Sauce:
1/2 cup of mayo
2 tablespoons chopped cilantro
Juice of 1/2 lime
1/4 tsp. chile powder
Combine until smooth. Place in small ziplock bag and cut off one edge then drizzle over cauliflower nachos.
Creamy Hot Sauce:
Combine equal parts hot sauce and mayo until smooth. Place in small ziplock bag and cut off one edge then drizzle over cauliflower nachos.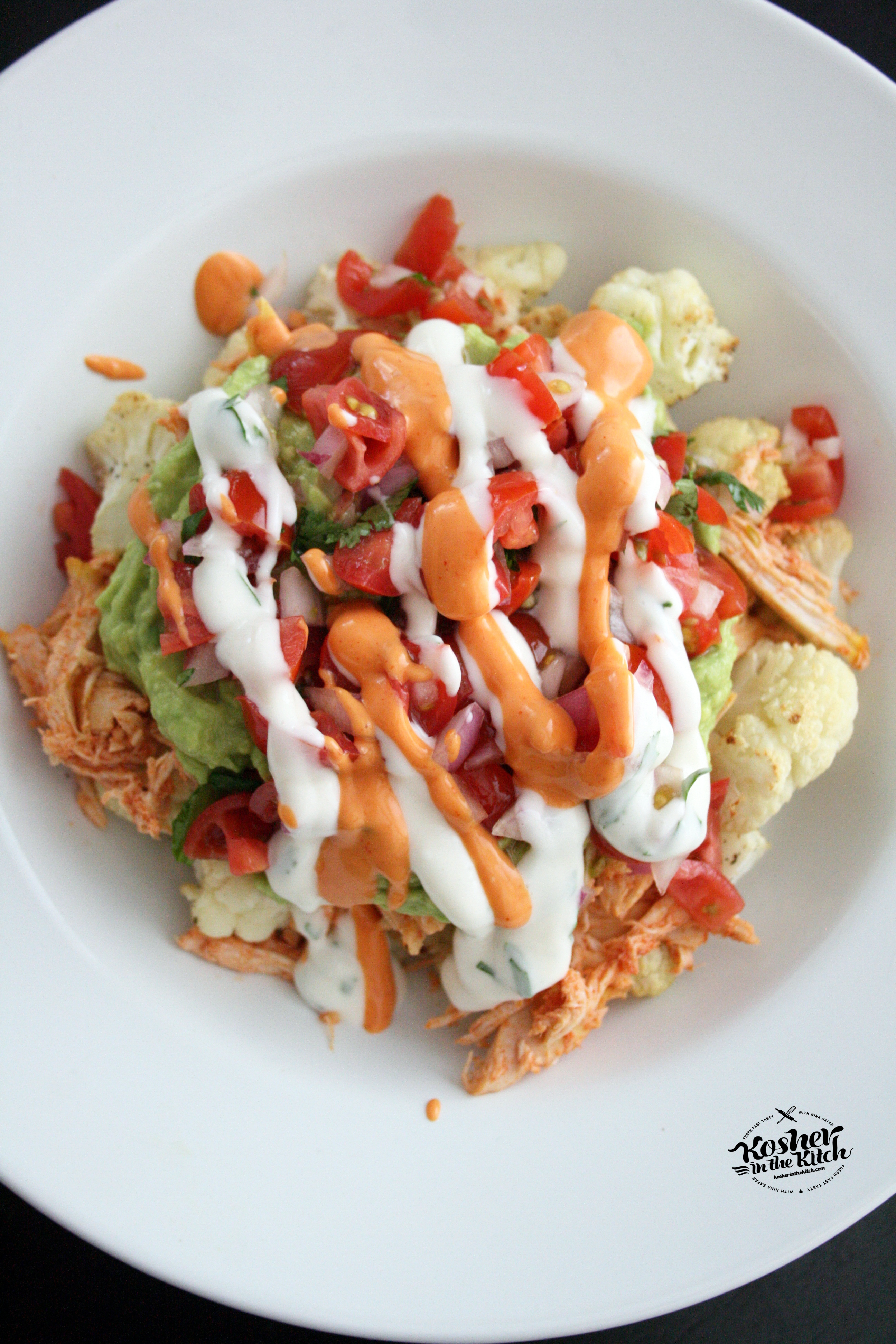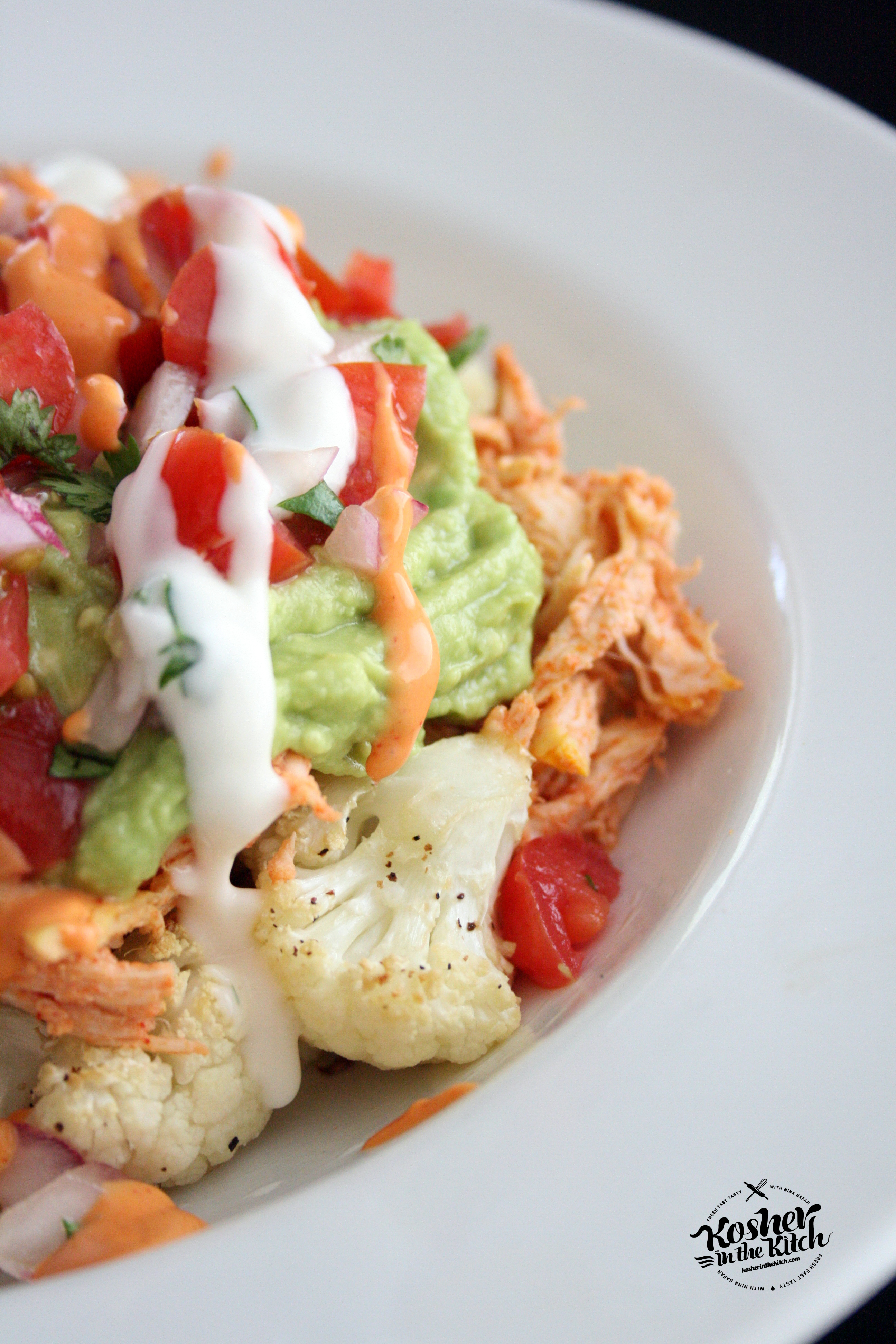 ~ Recipe submitted by Nina Safar