Warm Mushroom Quinoa Salad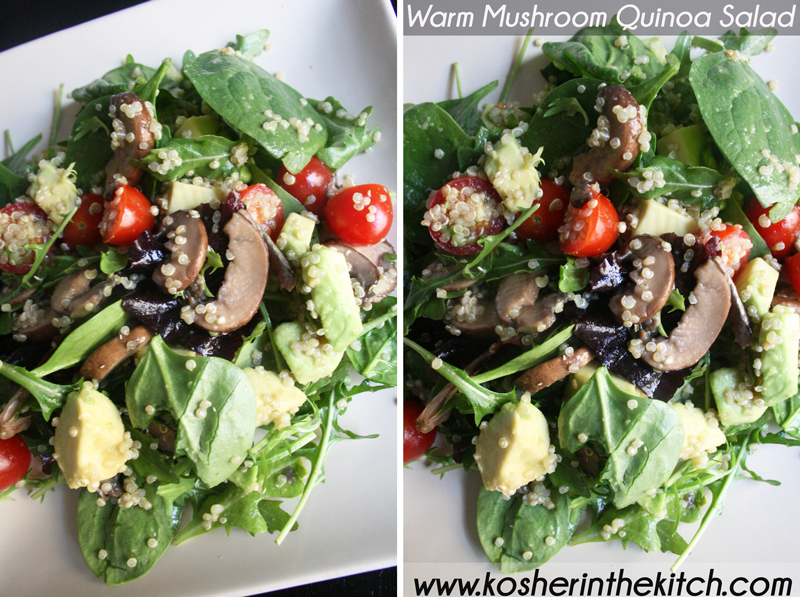 My friend Chaya Mink is a wonderful cook. She enjoys a good meal as much as I do, which means when we get together it's all about eating good grub. She recently had me over for a dinner party and served this salad. It's a great winter salad featuring some of my favorite ingredients, avocado, mushrooms and quinoa!
Ingredients:
1 cup of uncooked quinoa
2 cups of vegetable broth or water
1 package of mushrooms, wiped clean and sliced
1 tablespoon margarine
1 teaspoon soy sauce
1 box of cherry tomatoes, cut it half
1 head of lettuce cut up(or pre cut bag, I used a blend of radicchio lettuce)
2 avocados, diced
2 tablespoons balsamic vinegar
1 tablespoon brown sugar
Directions:
Place the quinoa and broth in a pot. Bring to a boil then simmer until liquid is absorbed. Meanwhile, saute the sliced mushrooms in the margarine until tender. Add the soy sauce to the mushrooms and continue to cook until soft. Place the lettuce in a large serving bowl. Add the tomatoes and diced avocado, cooked mushrooms and prepared quinoa. Combine the balsamic vinegar and brown sugar in a small container with a lid and shake well. Dress salad before serving.
~ Recipe submitted by Nina Safar